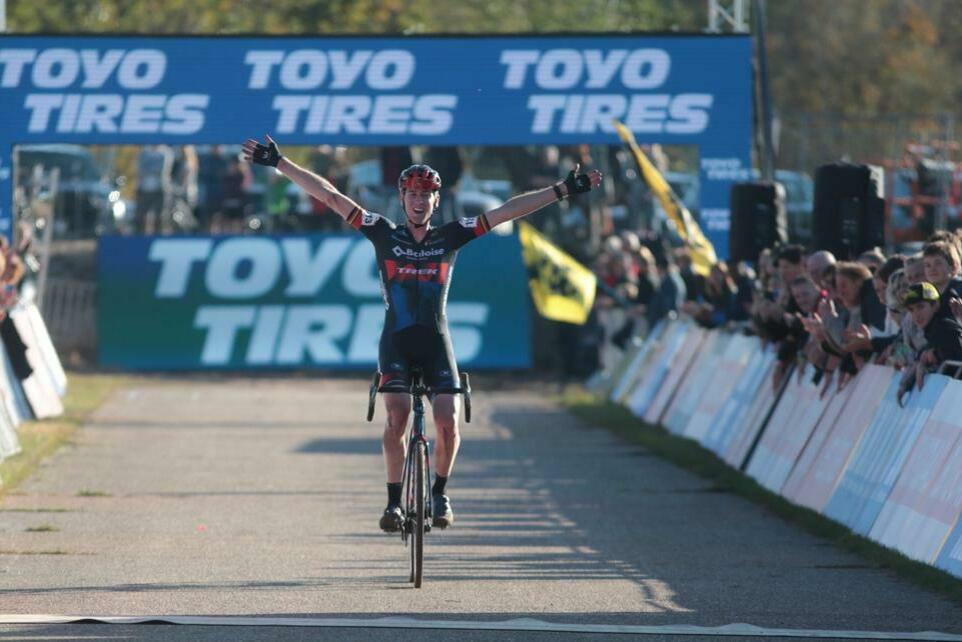 The one attack after another and changing racing conditions made round four in Zonhoven a fascinating one. In the closing laps it was Toon Aerts who took the race. He finished in front of Van der Haar and Iserbyt.
Leader of the standings, Eli Iserbyt, was clearly eager for a strong performance in the first round of the UCI Cyclo-cross World Cup on Belgian soil. He and Aerts enthusiastically plunged into the race. The riders took off at an amazing pace on the sandy stretches in Zonhoven. Nobody succeeded in breaking away at first. Only at the end of the second lap did Sweeck manage to force a gap.
In the pursuit, teammates Aerts and Van der Haar joined forces in a group of 6. At the front, Sweeck had to temporise after skidding. At the same spot, Aerts also crashed his bike. Aerts had to follow behind for a few laps and saw Iserbyt test his legs once or twice after Sweeck was caught.
Iserbyt first tried to get away together with Van der Haar, but home rider Hermans was pulling out all the stops behind. With 3 laps to go, Iserbyt showed what he could do once again on the last sandy climb. Again it was Hermans who closed the gap, together with Van der Haar. With two laps to go, the group was back together.
In the penultimate round it was suddenly Aerts who shot forward like an arrow. On the last sandy climb, everyone had to take to their feet behind leader Aerts, allowing him to gain a 22-second advantage as he started the final lap. He never relinquished that lead. At the finish the Baloise Trek Lions' day was made complete when Van der Haar took second place. Iserbyt finished in 3rd place and remains leader in the standings.