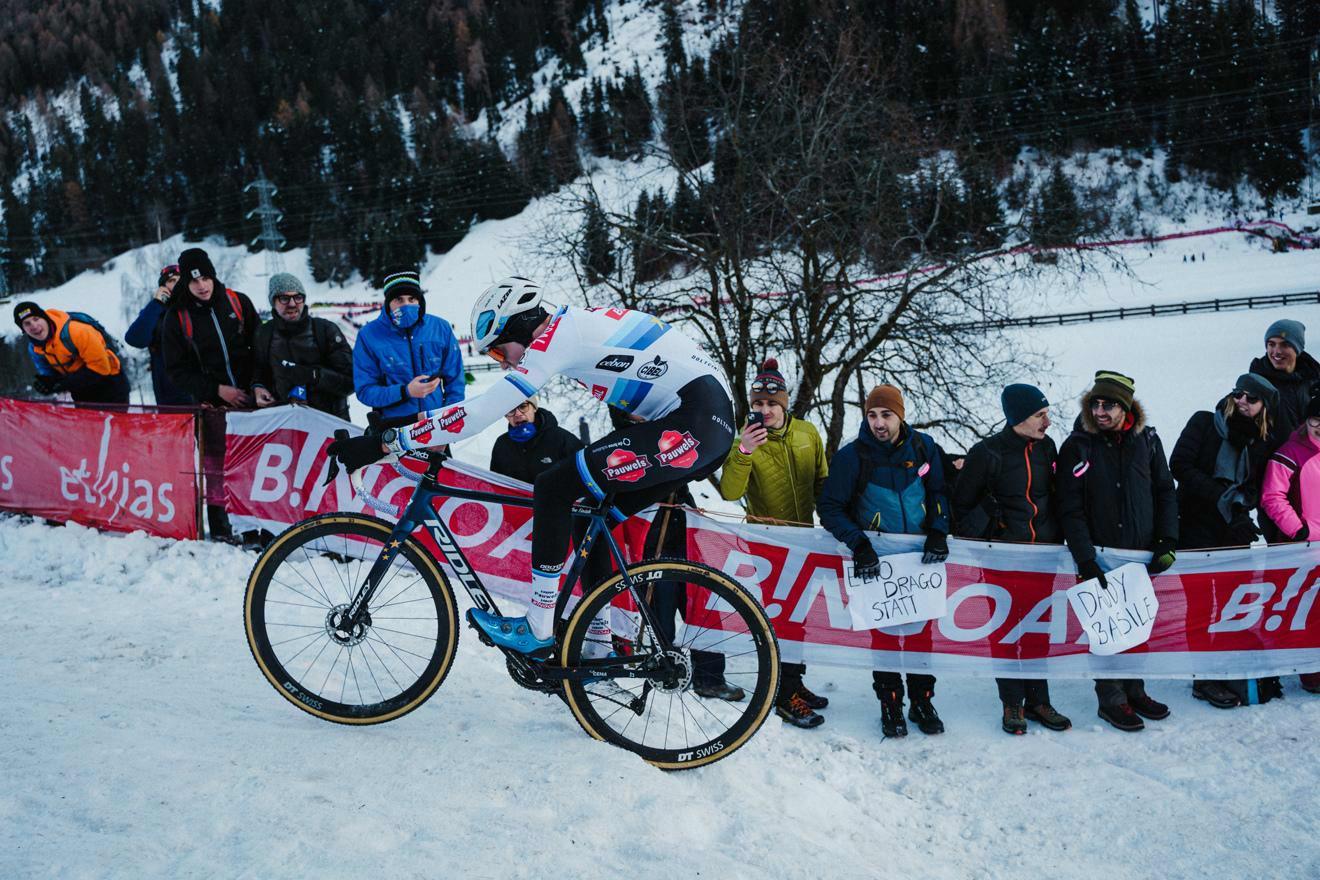 Snow and ice created a spectacle in Italy's Val di Sole. The unique surface gave European champion Vanthourenhout wings. He completed an impressive solo. The young Belgian Vandeputte and the Swiss Kuhn were almost as happy with their second and third places.
It was Swiss rider Kevin Kuhn who immediately felt comfortable in the snow of Val di Sole and who took the lead. The Belgian Niels Vandeputte followed with European champion Michael Vanthourenhout in his wake. Mathieu van der Poel did not get away so well at the start. He was left to chase. A task that was not easy on this slippery surface, as riders could not employ 100% of their power.
Soon a leading group of five riders formed, with Iserbyt, Vanthourenhout, Kuhn, Vandeputte and Sweeck. Kuhn kept up the pressure but it was Vandeputte and Vanthourenhout who broke away a little later in the Italian snow. In the background, Van der Poel did not seem to want to take any more risks and he let the leaders go.
In the fourth lap, Vanthourenhout felt his moment had come and tried to break away from Vandeputte. The young Belgian was not able to answer the acceleration of the European champion and had to leave a gap. Behind them, a small battle was developing for third place with Iserbyt, Sweeck and the Swiss riders Kuhn and Rüegg.
Chain problems forced Iserbyt to a halt moments later, giving leader in the standings Sweeck together with Kuhn a clear run at third place. In the fifth lap, Vandeputte suffered a flat tyre. This made it exciting again for second place as it allowed Sweeck and Kuhn to come back to within 8 seconds of Vandeputte. Behind them, Iserbyt had an unfortunate fall. He had to be taken away on a stretcher, just like his teammate Van Empel.
In the last lap, Swiss Kuhn managed to distance himself from birthday boy Sweeck. But Sweeck fought back and it was still an exciting battle for third place. But that did not concern Vanthourenhout at all. He was able to celebrate big time after a strong solo in the snow. Vandeputte took an impressive second place and was extremely happy. He even celebrated with a wheelie. Kuhn hung onto his third place which he was also very happy with.