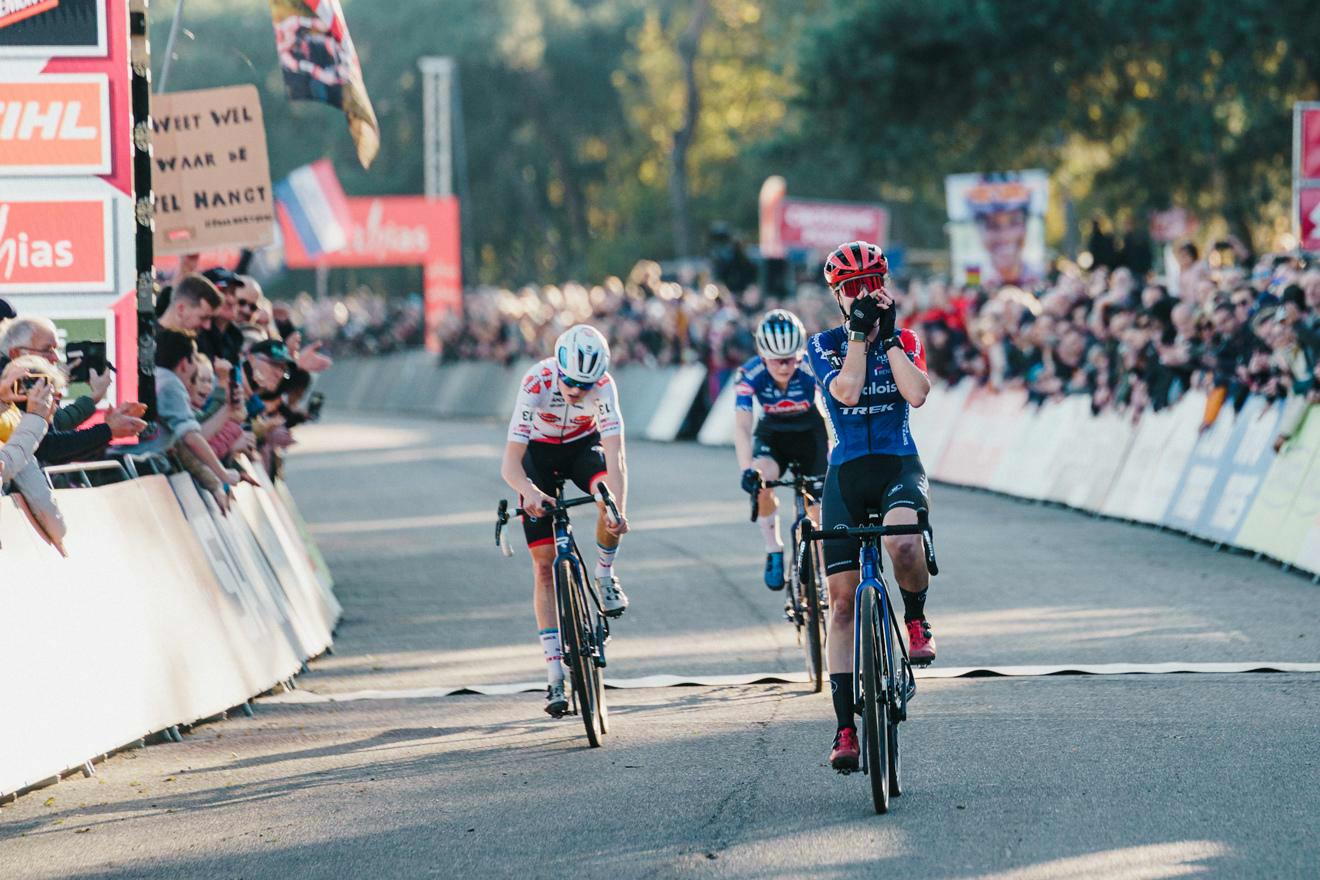 It was a thrilling battle between three young Dutch riders in Beekse Bergen. Van Empel, who won the first four rounds of the World Cup, Pieterse and van Anrooij were well matched. In the end, van Anrooij was able to secure the victory, her first one ever in the World Cup.
It was a fast start thanks to van Empel (Pauwels Sauzen-Bingoal). The Dutch rider, along with her compatriots Pieterse (Alpecin-Deceuninck) and Alvarado (Alpecin-Deceuninck), got away quickest. Vas (SD Worx) and Vos (Jumbo-Visma) were slightly behind and also built up a lead from the other riders. Betsema (Pauwels Sauzen-Bingoal), on the other hand, had a poor start and never really got into the race. Brand (Baloise Trek Lions) did her best on her return to the field, but it was clear she still lacked some rhythm.
At the front, van Empel and Pieterse proved strongest, gradually increasing the lead by a few metres at a time. Vas and Vos were then joined by van Anrooij (Baloise Trek Lions). A large gap had now opened up behind them. At the front, brand-new European champion van Empel got into trouble, she and Alvarado found themselves with a small lead. When she also had to put her foot on the ground in the forest section, Pieterse was able to take advantage of it and found herself alone in the lead.
A little later Alvarado encountered difficulties, she crashed and had to let van Empel go. Van Anrooij passed her and headed towards the front of the race. Pieterse saw her lead decrease and was joined first by van Empel followed by van Anrooij.
With only one lap to go, van Anrooij opted for a surprise attack on the finish line. Her two compatriots glanced at each other and hesitated. Van Anrooij built up a 10-second lead, after which the two started working together. But in the end it wasn't enough, van Empel and Pieterse tried to catch van Anrooij, but they were too late. Van Anrooij triumphed and earned her place on the World Cup honours list in Beekse Bergen. It was the 20-year-old Dutch rider's first UCI Cyclo-cross World Cup victory.