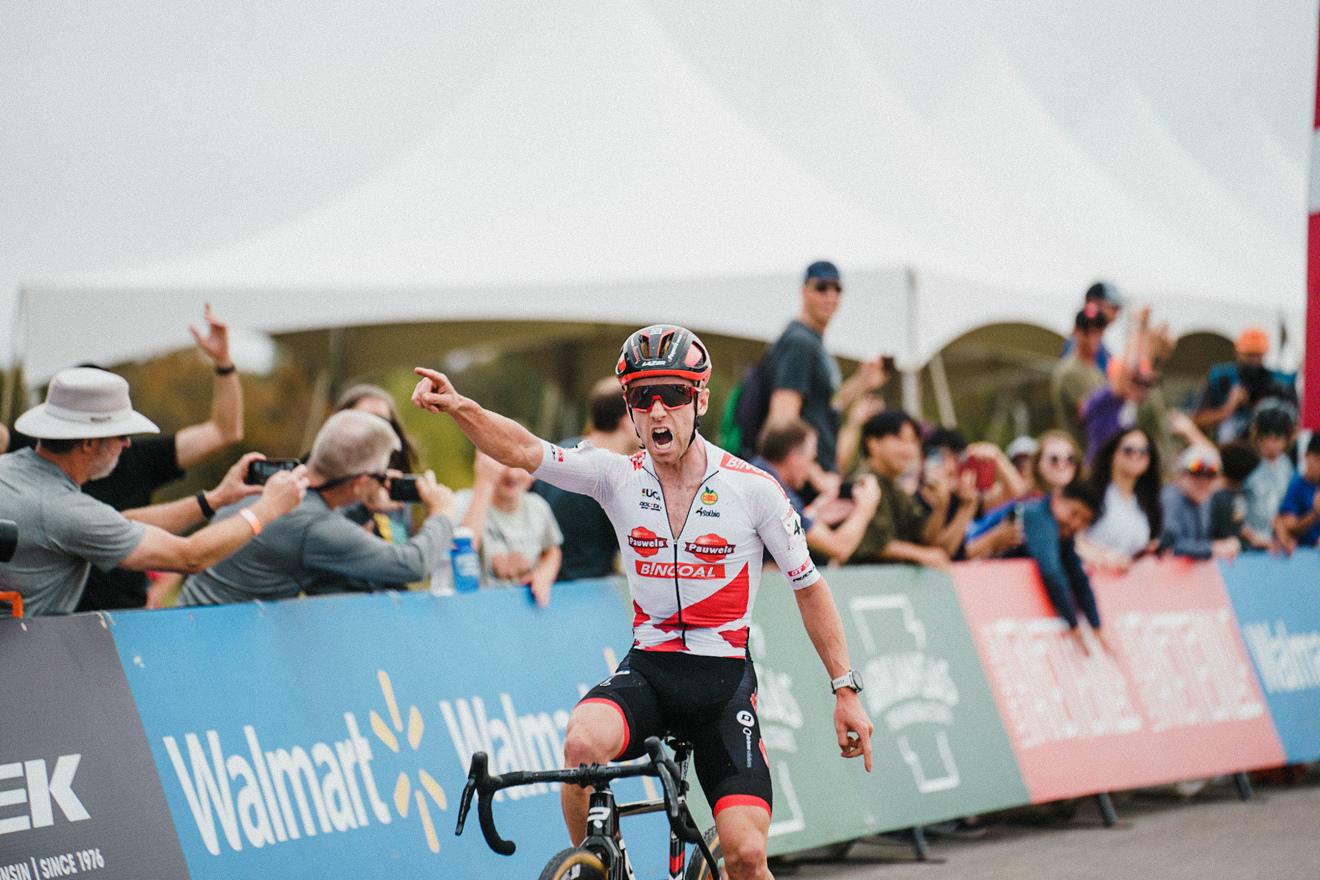 Two out of two for Eli Iserbyt in the UCI Cyclo-cross World Cup. The rider from West Flanders defeated Laurens Sweeck with a strong sprint.
The two favourites, Eli Iserbyt and Laurens Sweeck, immediately started the race wheel to wheel. The latter tested his legs for the first time at the end of the first lap, but a breakaway did not seem imminent. Toon Vandebosch saw a chance as he passed the finish arch. The rider from Alpecin - Deceuninck accelerated, with the rest looking to World Cup leader Iserbyt to close the gap. By the end of the second lap, Vandebosch had built up an eleven-second lead.
Iserbyt was not able to catch up on his own. Uphill, Sweeck took over the pursuit and not much later, Vandebosch's lead had been eliminated. At the end of the third lap, there were twelve leaders. Michael Vanthourenhout had plans to change that. He attacked, forcing Laurens Sweeck to work hard. With Iserbyt and Nys on his wheel, he caught up with the rider from Pauwels Sauzen - Bingoal. Nobody wanted to take the initiative, so halfway through the race, a large group was out front.
What followed was a tactical game between teammates Vanthourenhout - Iserbyt and Laurens Sweeck. Each took turns to up the pace, forcing the other to react, but making a difference proved quite a challenge. Nevertheless, on lap seven, the riders of Pauwels Sauzen - Bingoal succeeded during the climb. Sweeck was a little too far away, allowing Iserbyt and Vanthourenhout to quickly build up a seven-second lead together. The two at the front turned it into a team time trial, Sweeck chased on his own. The latter came within three seconds of the two leaders when Michael Vanthourenhout left a gap. Iserbyt had a slight lead, but Sweeck was not done yet. In the penultimate lap there were three leaders again.
We had to wait until the final lap before we saw another attack. On the long climb, Iserbyt pulled out all the stops, but Sweeck was right on his heels. A sprint seemed inevitable. Sweeck was the first to turn up the final straight, but in the last few metres it was Iserbyt who triumphed. Two out of two for the West Fleming, who strengthens his leading position in the standings.