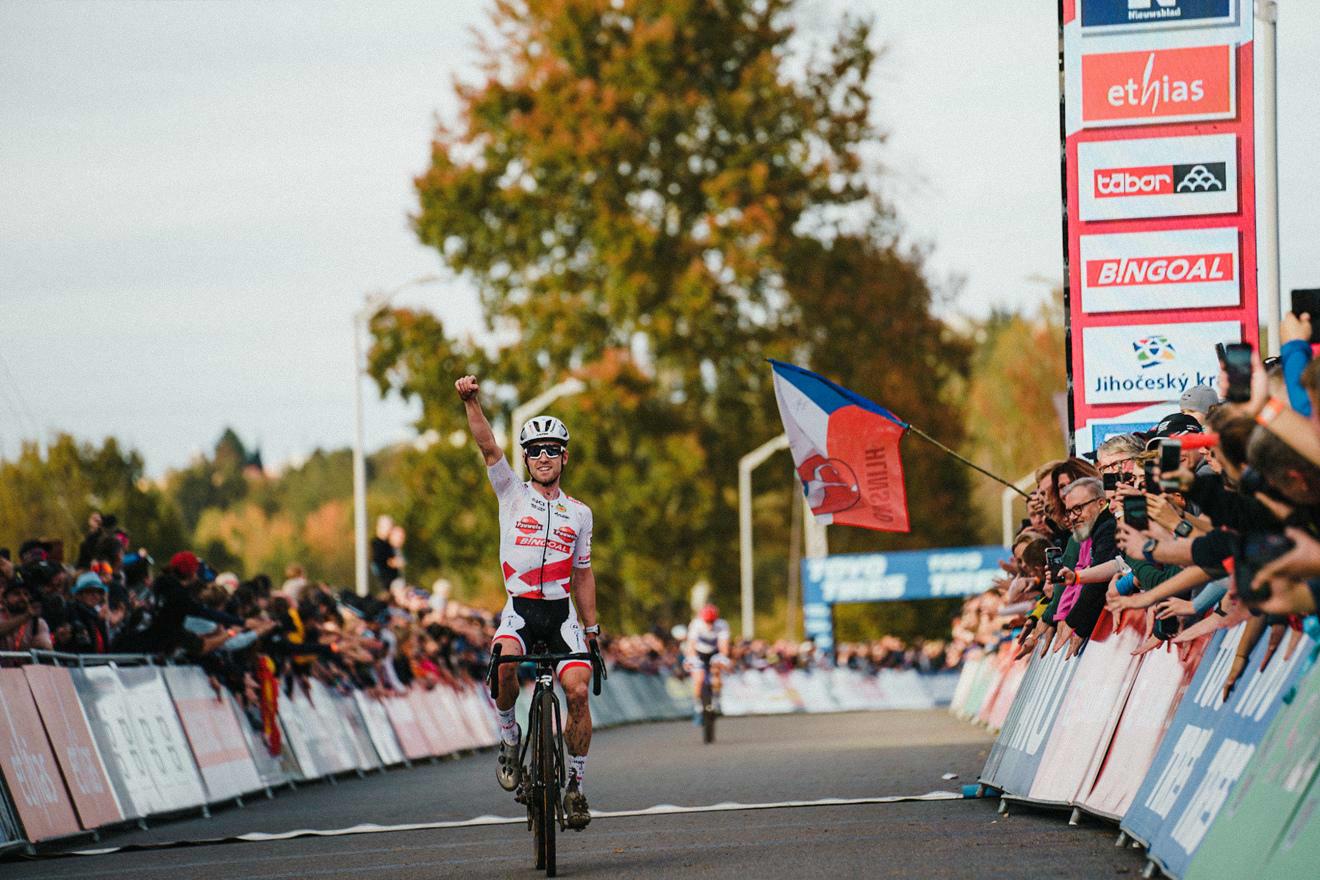 Eli Iserbyt reinforced his leading position in the UCI Cyclo-cross World Cup with a victory in Tábor, in the Czech Republic. The Belgian held off European champion Lars van der Haar after a brilliant solo ride.
Quinten Hermans got off to the quickest start in Tábor, but it was Michael Vanthourenhout who launched into the field first. The tension was palpable and the competition fierce on the fast circuit in the Czech Republic. Several riders took up position at the head of the race, but no one managed to thin out the big breakaway group. An elongated peloton completed the first two laps.
During the third lap, Eli Iserbyt accelerated for the first time. Laurens Sweeck was at hand and reacted immediately. The rest had to close the first gap. At the end of lap three, the leading group counted seven riders. It didn't last long, as on the next lap Michael Vanthourenhout decided his time had come. Teammate Eli Iserbyt played the team game, forcing Laurens Sweeck to take responsibility again. He closed the gap with Iserbyt, Van der Haar and Hermans on his wheel.
Up front, no one was able to break away. The riders were keeping an eye on each other, and the lead group increased as we entered the sixth lap. Iserbyt was not impressed and increased the pace. With two laps to go, the World Cup leader had accumulated a five-second lead. Sweeck gritted his teeth, but Iserbyt increased his lead, metre by metre.
Lars van der Haar noticed that Sweeck's energy level was decreasing, and he left the chasing group to go on the attack. At the start of the final lap, there was an eight-second difference between the Dutchman and Iserbyt. When his lead reached ten seconds, Iserbyt was able to slow down. The hat-trick was his. European champion Van der Haar had to be content with second place, Michael Vanthourenhout completed the podium in third position. With his third victory in a row, World Cup leader Iserbyt increases his lead in the standings.