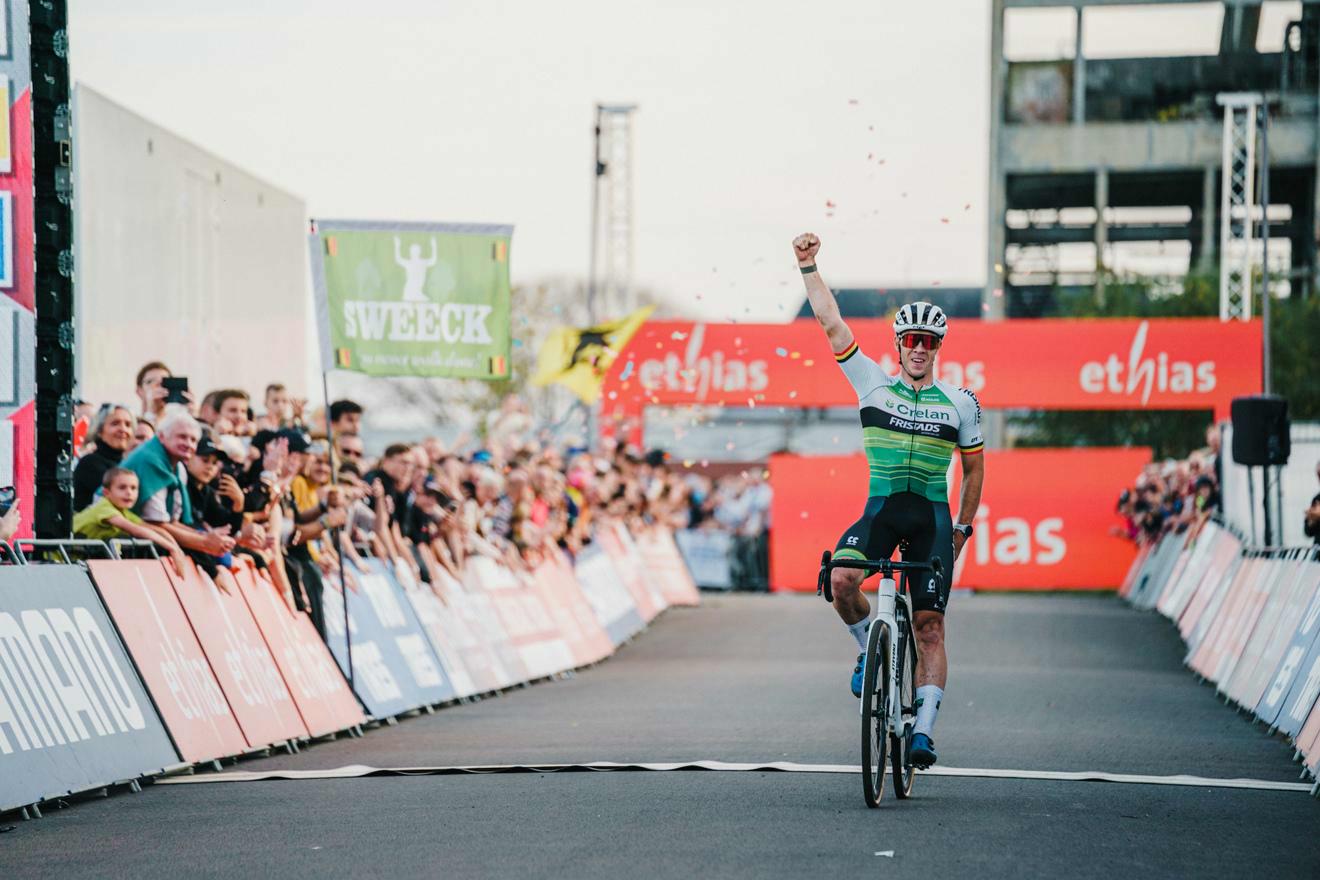 Laurens Sweeck won the first edition of the latest round of the UCI Cyclo-cross World Cup in Maasmechelen. The man from the Crelan – Fristads team took to his heels midway through the race to notch up his very first World Cup success.
Laurens Sweeck got off to the fastest start in the Limburg Maasmechelen, the new cyclo-cross event in the World Cup calendar. For Quinten Hermans, the race started a little less smoothly. He fell during the first descent and was immediately forced to chase. This quickly created a gap behind fast starter Sweeck, but Iserbyt was not going to let that evolve. The leader in the standings was able to restrict the lead and closed the gap.
At the start of the second lap, there was not really a sign of any separation. The pack snaked around the circuit in one long string. Dutchman Lars van der Haar suffered a flat tyre, but was soon able to reconnect with the pack after his bike switch. Meanwhile, Iserbyt was pulling strongly at the front.
A little later, it was Sweeck who was accelerating again. Michael Vanthourenhout and Iserbyt were the only ones able to respond to the attempted breakaway. Behind them, a small gap opened up on the leading pursuers Kevin Kuhn and Niels Vandeputte. Iserbyt decided to exert some pressure on Laurens, but the World Cup leader fell during a descent and after that it was full on in the chase for him.
Sweeck didn't seem to want to wait for Iserbyt, who had already got back into 7th place and was pulling hard. It was now up to teammate Vanthourenhout to follow Sweeck, but the rider from Pauwels Sauzen – Bingoal had to let his rival go a little later. Behind them, it was van der Haar and Kuhn's turn to try to bring back an unleashed Sweeck. Vanthourenhout had seemed to have fired his best shot and was soon joined by van der Haar, who had meanwhile created a gap on Kuhn.
The man from Schriek continued to build on his lead. However, Iserbyt had not given up and he moved up into third place with van der Haar in his sights for second place. The two then joined forces a little later in one last attempt at victory. But Sweeck showed no signs of weakening as he entered the final lap and with a lead of 30 seconds appeared well on the way to a fine solo victory.
Van der Haar realised that the bird had flown and he now did everything he could to finish second. He launched an attack that left Iserbyt struggling and, moments later, through a foot on the ground, he finally managed to break free. There was a moment of excitement when Sweeck suddenly ducked into the pit because of a flat tyre. But his lead was large enough. The Belgian rode on to his first ever victory in a World Cup race. Van der Haar finished second. Iserbyt was third and remains leader in the standings.