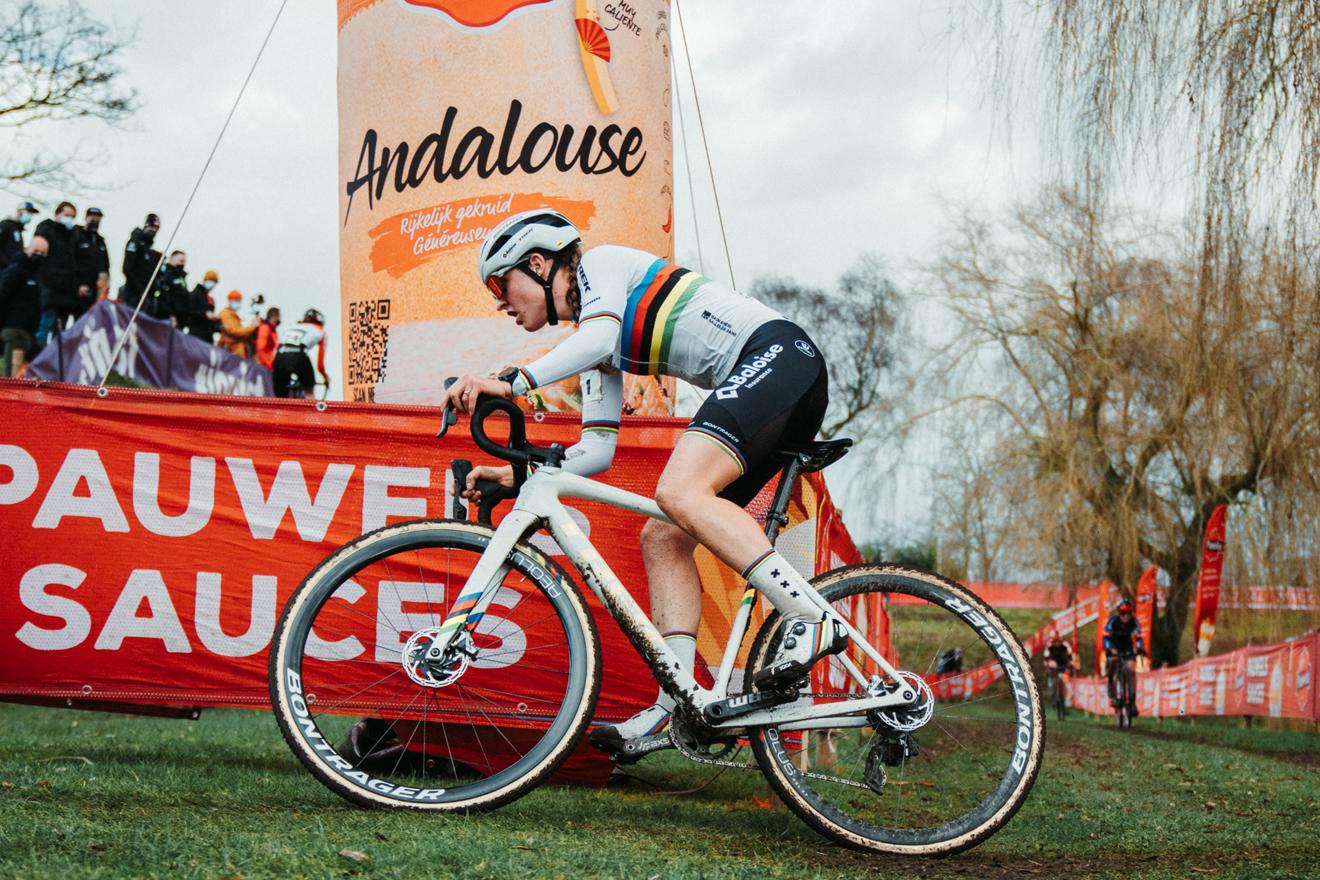 World champion Lucinda Brand has won the 13th round of the UCI Cyclo-cross World Cup. In Hulst in the Netherlands, on the penultimate round, she caught up with and passed Puck Pieterse.
The ramparts in Hulst formed the magnificent backdrop for the first edition in 2022 of the UCI Cyclo-cross World Cup. Marianne Vos was first to take the lead. Her compatriot Denise Betsema slipped out of her click pedal at the start. After that, the Pauwels Sauzen-Bingoal rider never really came into the race. World champion Lucinda Brand stayed out of the way at the start. On the first lap, she kept an eye on what was happening from position 8.
Vos made a number of small mistakes during the opening lap and not much later she lost her lead to Puck Pieterse. Pieterse was clearly in her element on the Hulst course and rode clear of the competition. At the end of the first lap, she already had a lead of 6 seconds over Kata Blanka Vas.
Lap after lap, Pieterse cycled further away, while Lucinda Brand was still searching for the right rhythm. At the end of the third lap, a small chasing group had formed. Vas, Van Anrooij, Van Empel, Worst and Brand followed 10 seconds behind the leader.
The start of the fourth lap was the signal for Brand to step up the pace. The world champion and Vas came closer and closer to Pieterse. Brand attacked fiercely and as a result the Hungarian champion Vas was unable to match her pace. Halfway round the penultimate lap, the world champion caught up on her own with Pieterse.
Brand did not waste any time and immediately left Pieterse trailing behind her. The rider from Alpecin-Fenix had clearly used too much of her energy during her solo. The world champion was unleashed and soon found herself a few seconds clear of Pieterse. Behind them, Worst managed to pass Vas. She tried to put pressure on Pieterse, but just couldn't succeed in keeping up with her. Nobody could catch Lucinda Brand and she was able to celebrate victory at the finishing line. Pieterse and Worst joined her on the podium.
© Cyclephotos