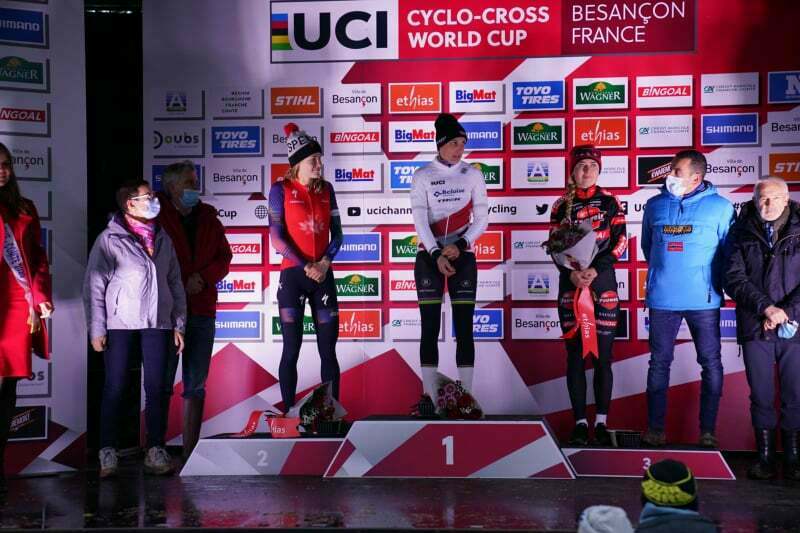 Lucinda Brand has won the 8th round of the UCI Cyclo-Cross World Cup in Besançon, France. The world champion rode solo in the lead, from start to finish.
The French sisters Clauzel (A.S. Bike Crossteam) succeeded in being the first to dive into the muddy field, but their head start did not last long. World champion Lucinda Brand (Baloise Trek Lions) was clearly in great shape and moved to the front straight away. Her compatriot Denise Betsema (Pauwels Sauzen – Bingoal) recognised the danger and tried to slide along with her, but being able to do so was not matter-of-course. We were not even halfway through the first lap when Lucinda Brand, riding solo, took the lead.
The Dutch rider had already managed a 12-second lead at the end of the first lap. In the background, a group composed of Betsema, van der Heijden (777), van Empel (Pauwels Sauzen – Bingoal) and Pieterse (Alpecin-Fenix) attempted to close in on her. Despite a mistake on the stairs, Brand still managed to extend her lead. That was a sign for Betsema and Empel to increase their pace in the background.
Although the two team-mates made every effort, they were still unable to get much closer to Brand. Van Empel could not keep up with Betsema, while Maghalie Rochette pulled out all the stops in the background. The Canadian joined Betsema, even managing to get ahead of her at the end of the third lap.
Brand's lead, however, remained uncompromised in the final lap. The world champion rode solo to victory in Besançon. Rochette came in second, with Betsema claiming the last spot on the podium. This victory will allow Lucinda Brand to consolidate her lead over Betsema in the ranking of the UCI Cyclo-Cross World Cup.
© Cyclephotos