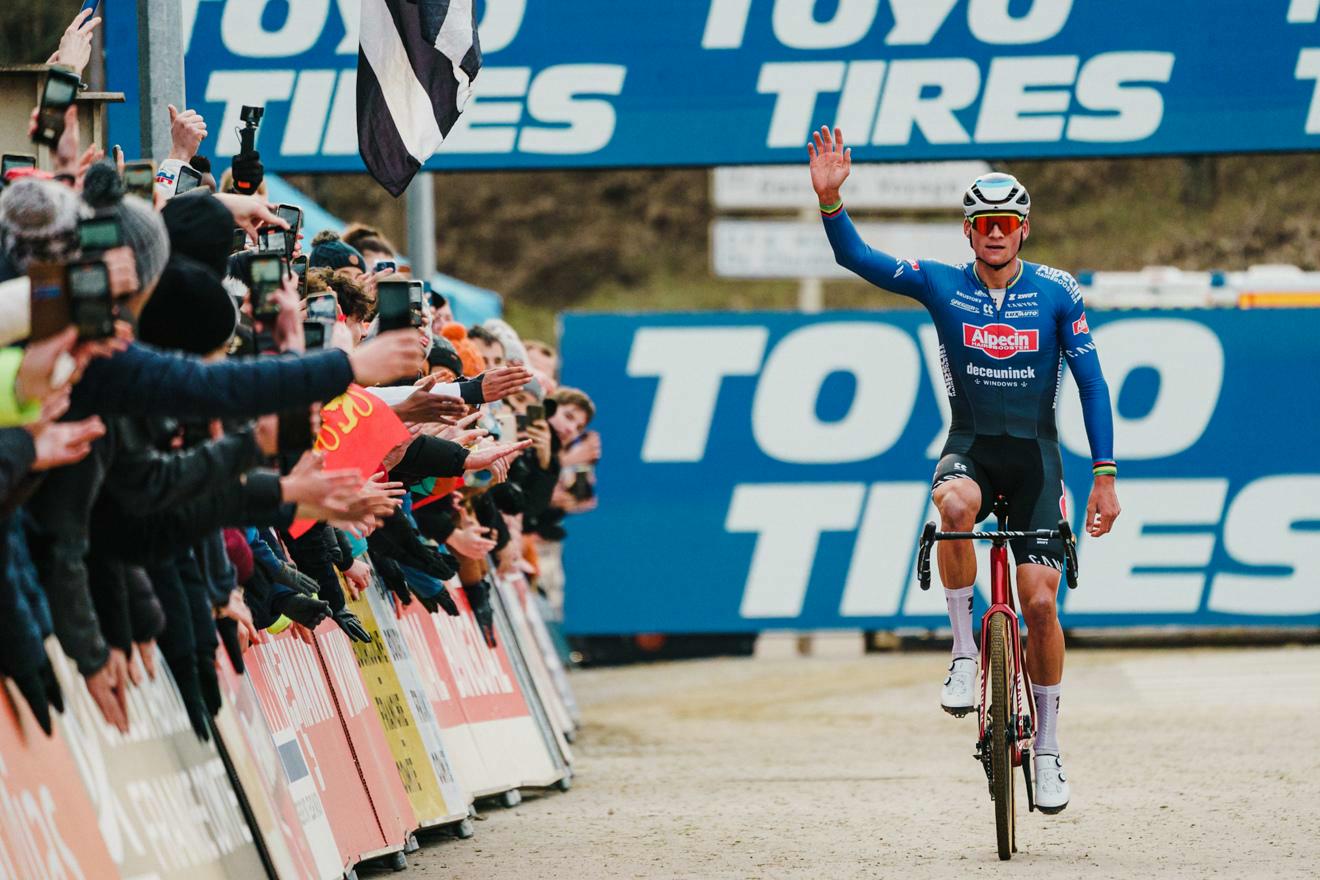 Mathieu van der Poel has won the final round of the 2022-2023 UCI Cyclo-cross World Cup. The Dutchman pushed very hard in the fourth lap on an uphill stretch and soloed away to victory.
Mathieu van der Poel had the best start on the fast course in Besançon. The Dutchman chose to take it easy during the first laps and quickly ceded his first position to Thijs Aerts. It was wait and see during the opening lap. No one dared to take the initiative, so the lead position constantly changed hands. At the first passage over the finish line, more than twenty riders were riding wheel to wheel.
Entering the second lap, it was French champion Clement Venturini who upped the pace. This caused small cracks to appear in the peloton, but there was no real separation. The next big acceleration came from Eli Iserbyt at the start of the fourth lap. Mathieu van der Poel stirred into action and took the initiative himself a little later. On an uphill stretch, the Dutchman pushed the accelerator to the limit. In no time, he was riding solo with a lead of 10 seconds.
The competition realised that they were competing for the other two podium places. In the sixth lap, Laurens Sweeck showed himself. The World Cup leader accelerated on the same stretch where Van der Poel had previously wreaked havoc, but Eli Iserbyt did not let him get away. The pace in the chase dropped again, allowing a large group to form. Entering the final lap, the group was riding one minute behind Mathieu van der Poel, who in the meantime stole the show on a BMX passage on the course.
Iserbyt made it into a long finale in the final lap and put everything into the uphill, but mechanical problems shattered his podium ambitions. Laurens Sweeck rode to second place, 49 seconds behind winner Van der Poel. Dutchman Joris Nieuwenhuis sprinted to the final podium place.