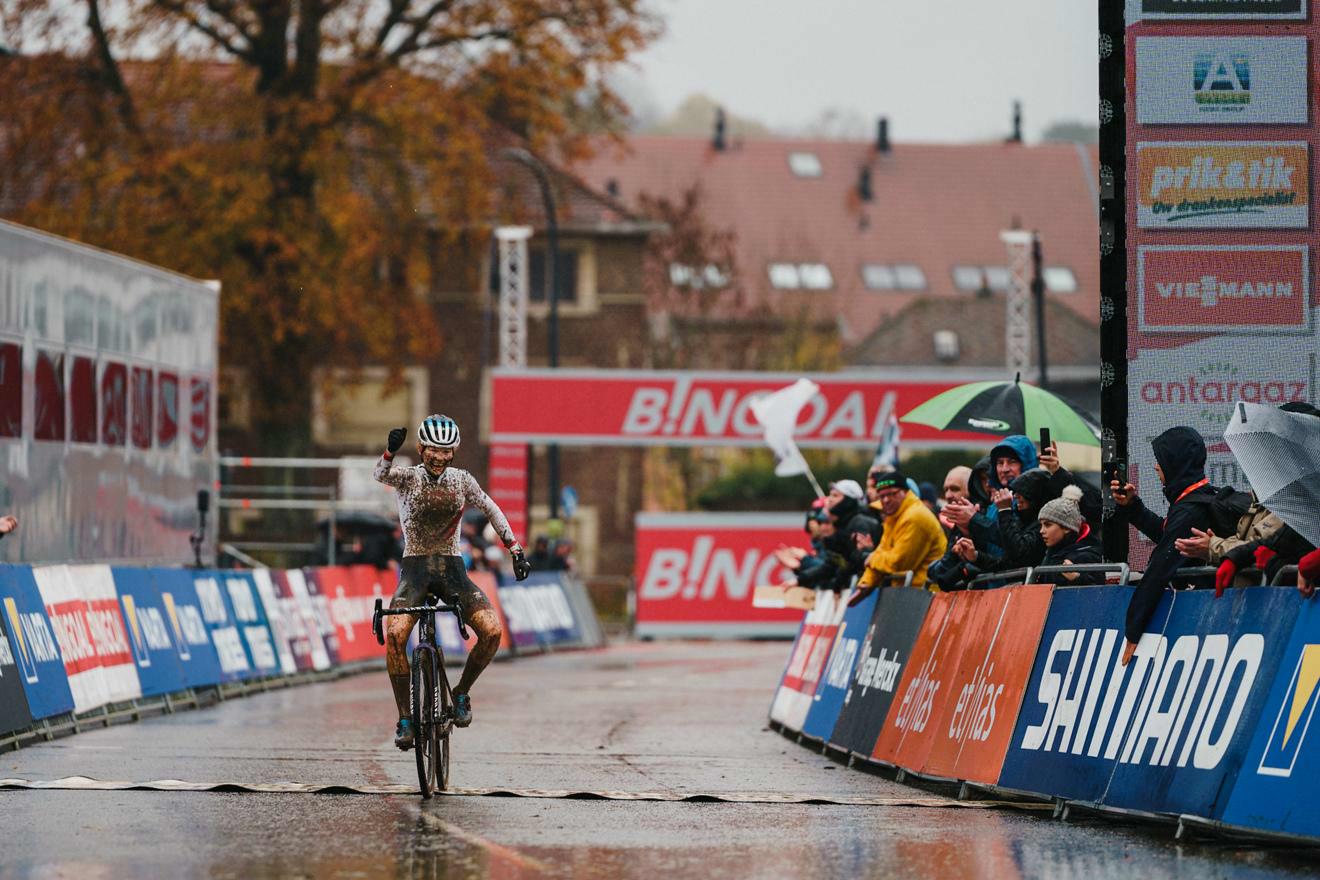 Puck Pieterse claimed victory in the 'Mother of all Crosses' in Overijse after an amazing solo. The young Dutch rider from the Alpecin-Deceuninck team set off in a blaze, eventually beating her rivals by more than a minute.
France's Hélène Clauzel was first to ride onto the red carpet in Overijse. A small crash by Lucia Bramati blocked the road for Belgian champion Sanne Cant. The Italian's chain broke in two, which meant a fall was unavoidable. Naturally, World Cup leader Fem van Empel and U23 World Champion Puck Pieterse immediately surged to the front. Lucinda Brand was not so lucky, as she had to click out of her pedal during the start, losing a good position to begin her race.
Pieterse seemed to have her sights set on this race and immediately found her stride on the first technical, slippery descent. She was fully focused and appeared to launch into the descents without a trace of fear. Unlike Van Empel, who had experienced the surface earlier during her reconnaissance lap and seemed slightly cautious in her approach. Meanwhile, Shirin van Anrooij, who just last week managed to win the World Cup race in Beekse Bergen, moved up to third place.
After one lap, Pieterse was already 19 seconds ahead of her closest competitor Van Empel. Van Empel glanced back and appeared to reconcile herself with a possible second place. Van Anrooij, Betsema and Van Alphen, who were fighting for third place, all slipped in the same corner, proving once again how slippery the circuit was. Van Empel also made a mistake on a descent moments later and was unable to avoid contact with the ground.
Pieterse did not seem to have any issues with the mud whatsoever. After the second lap, she had already built up a 45-second lead over Van Empel, increasing to a minute over Van Anrooij. The mistakes piled up in the background but Pieterse looked like a tightrope walker, perfectly able to keep her balance in the slippery mud. Lap after lap, the young Dutchwoman increased her lead and behind her, Van Empel and Shirin van Anrooij seemed certain of place on the podium.
In the background, Brand made an incredible comeback. From a hopeless position, she managed to move up to 4th place. But this was obviously no longer a concern for Pieterse. A beaming smile appeared on her muddy face at the finish. Van Empel crossed the line in second place one minute and three seconds later and retains her lead in the World Cup standings. Van Anrooij completed the podium in third place.