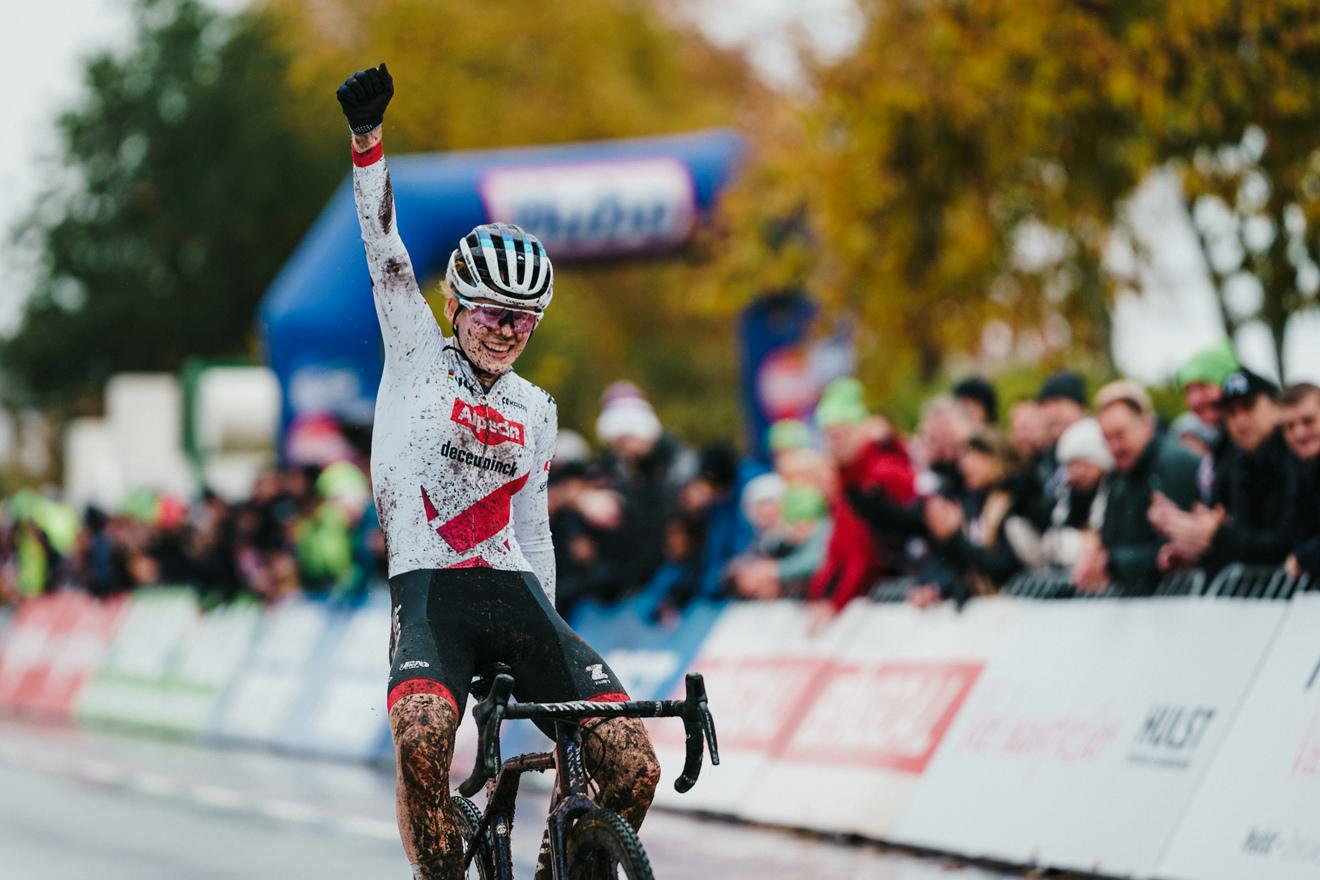 The technical circuit in Hulst provided quite a spectacle during the 7th World Cup race. After what promised to be an exciting duel between Pieterse and Van Empel, a crash by Van Empel threw a spanner in the works. This meant Pieterse was able to ride solo to her second World Cup victory in a row.
The start for the women's elite race in Hulst, the Netherlands, exceptionally took place at 11 a.m. The World Cup gave way to another World Cup, the FIFA World Cup in Qatar. Puck Pieterse seemed to have no problem with the earlier start and flew into the wet and muddy field first. It was immediately clear that Hulst was going to be a real thriller as lots of riders fell in the background on a steep and slippery descent.
The young duo Pieterse and Van Empel left their rivals in their wake and embarked on an exciting duel after just half a lap. Only Ceylin Alvarado managed to keep up by a few seconds. After one lap, Pieterse had built up a small lead of six seconds over Van Empel. Alvarado followed 19 seconds later with Van Anrooij already half a minute behind.
Pieterse rode masterfully over the slopes but Van Empel was not to be underestimated and gained on her young opponent. It all came down to avoiding mistakes on the slippery surface. In the background, Van Anrooij joined Alvarado for third place a minute behind the lead. The European champion remained seven seconds behind and did not give up, almost allowing her to rejoin her compatriot Pieterse in the third lap. Van Empel fearlessly descended towards Pieterse's wheel, catching up with her, and the duel could begin.
But moments later Van Empel slipped and had to straighten her handlebars. Her derailleur also shifted to crash mode causing the leader in the standings to lose a lot of time on Pieterse. She had to find a way to reach the pit on her hardest gear, causing her to make one mistake after another. Going into the fourth lap, she was already a whole minute behind, but her second place seemed assured as Van Anrooij was already a minute and a half behind.
Pieterse made mistakes too, falling in both the penultimate and final laps. But unlike Van Empel, she did not have to cope with any equipment issues and was able to go solo to claim an impressive second World Cup victory in a row. Unlucky Van Empel was second and Van Anrooij third. Van Empel retains her strong lead in the standings.