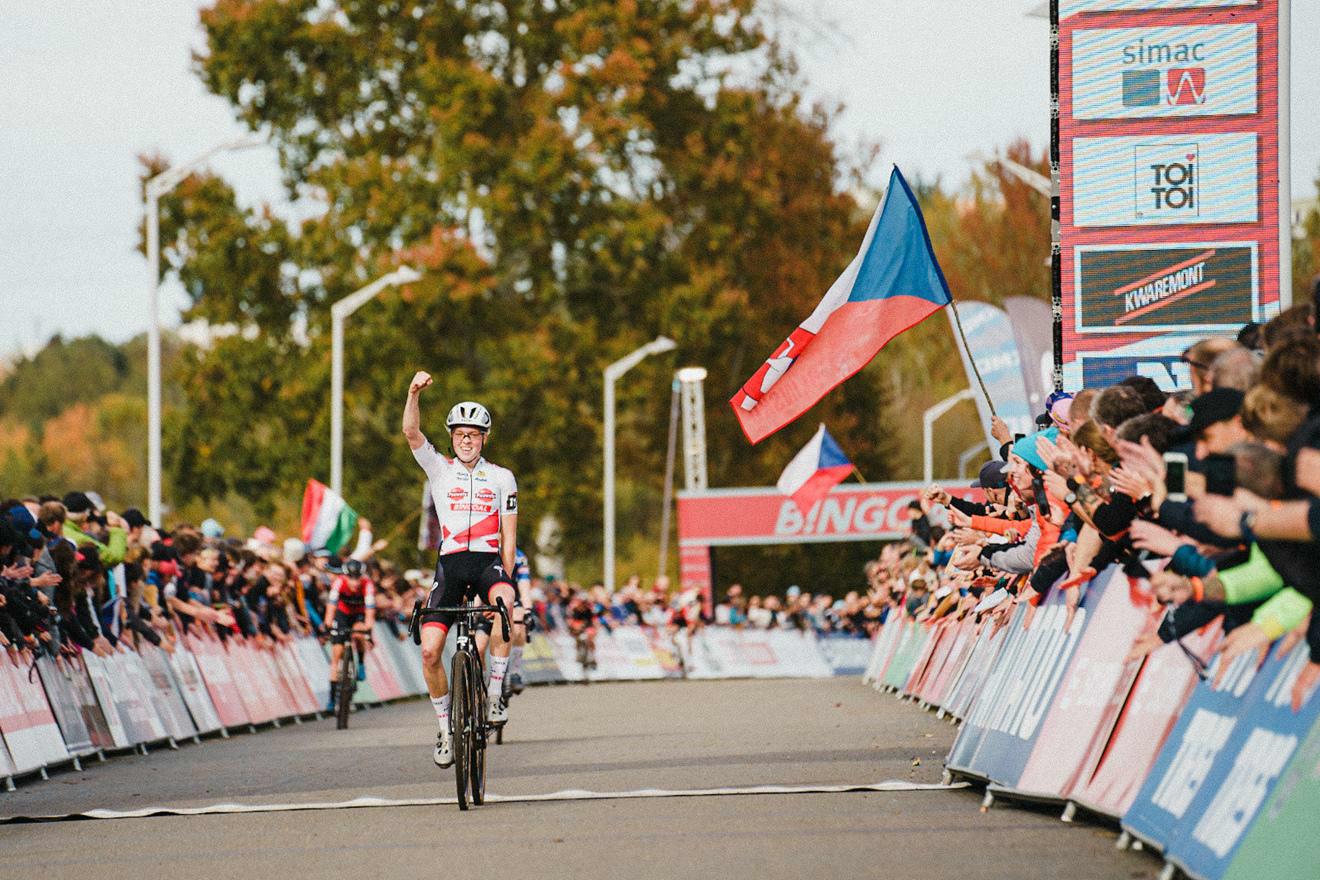 Waterloo, Fayetteville and now Tábor. Fem van Empel remains unbeaten in the UCI Cyclo-cross World Cup. After a closed race, she settled scores with her compatriots Puck Pieterse and Annemarie Worst in the final lap.
Luxembourg's Marie Schreiber shot into the field like a rocket after the first start in the UCI Cyclo-cross World Cup on European soil. The Tormans Cyclo Cross Team rider immediately gained a small lead. It soon became clear that the barriers would be a crucial point on the circuit. Puck Pieterse, who finished her first World Cup race of the season in Tábor, was the only one to jump the barriers and take over the lead from Schreiber. The Dutch rider subsequently decided to ease the pace, leaving us with a leading group of 10 women at the end of the first lap.
We had to wait until halfway through the third lap for another acceleration. Pieterse upped the pace just before the barriers. The Dutch rider jumped the barriers again, breaking up the leading group of ten. Only Worst and Van Empel remained on Pieterse's wheel. The trio had a twelve-second lead over the first chaser Kata Blanka Vas at the end of lap three.
At the front, they kept an eye on each other, allowing Betsema, Alvarado and Vas to rejoin them. Moments later, Shirin Van Anrooij made sure we had seven leaders. At the end of the penultimate lap, Vas attempted to reduce the leading group. She succeeded initially, but entering the final lap, the pace once again stalled.
We had to wait until the barriers before all the cards were on the table. Puck Pieterse did all she could to get there first, but Annemarie Worst refused to let her compatriot pass. Worst, Pieterse and Van Empel were the only ones left in front, but the latter was not done yet. She accelerated and put Worst and Pieterse slightly behind. The World Cup leader was able to maintain her lead and rode solo to three out of three wins in the points-based criterium. Pieterse had to be content with second place and Worst joined them on the podium in third place.