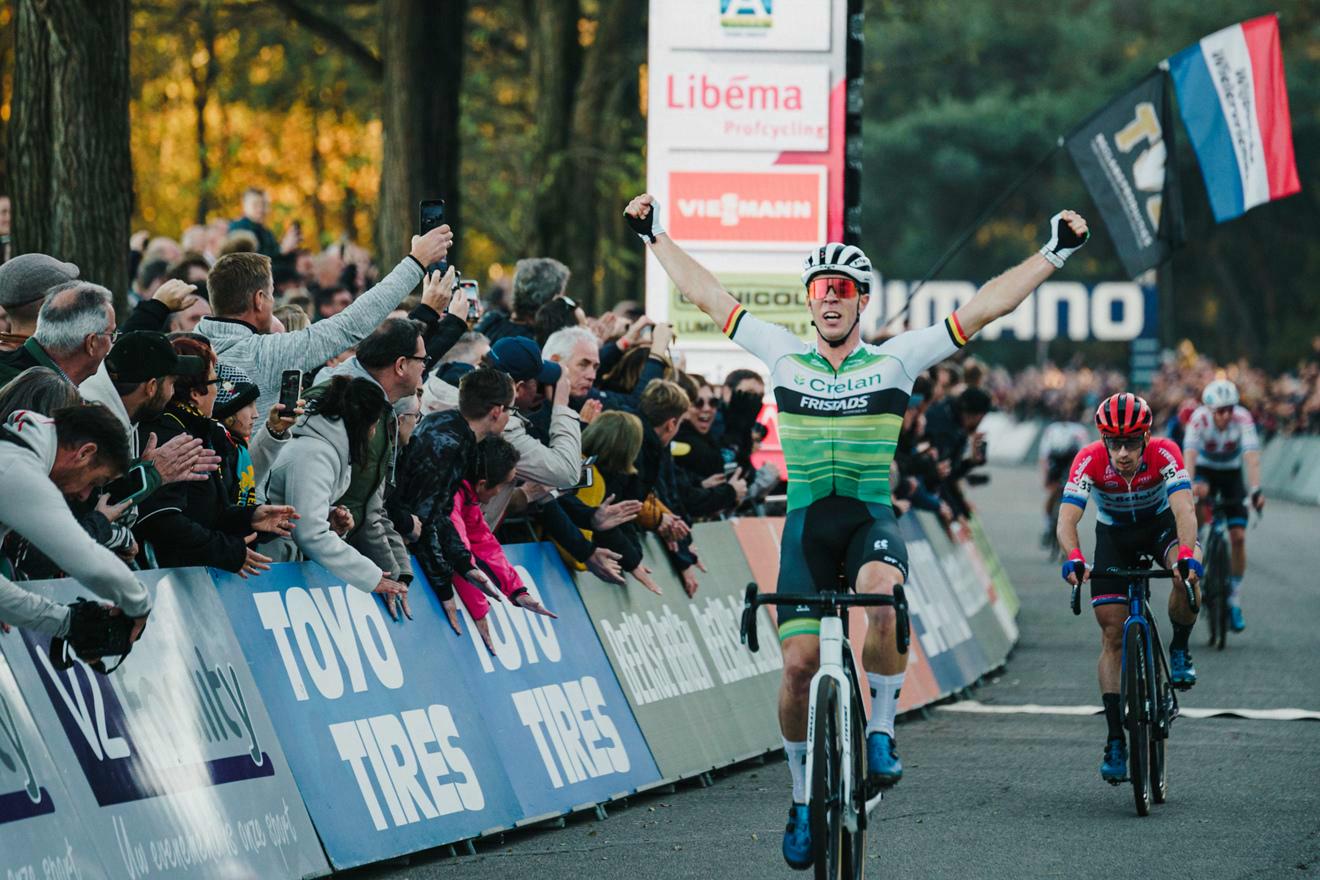 Laurens Sweeck firmly took control of the brand new World Cup in Beekse Bergen. On a fast course, and after some unexpected twists and turns, five riders launched into the final lap. In the end, Sweeck was the strongest, before van der Haar and Vanthourenhout.
Right from the start the action was riveting. Eli Iserbyt (Pauwels Sauzen-Bingoal) slipped out of his pedal and completely missed his start. He was swallowed up by the peloton, which was led by Swiss champion Kuhn (Tormans-Acrog), who got them off to an impressive start. In a dazzling first lap, the peloton stayed together.

Sweeck (Crelan-Fristads) and van der Haar (Baloise Trek Lions) managed to build up a lead of several seconds when the peloton got stuck behind Kuhn, who slipped in a bend. The worst casualty was Vanthourenhout (Pauwels Sauzen-Bingoal), who seemed to be having the best race besides Sweeck and van der Haar. He was left to chase them, but recovered, and was initially the only one able to catch the two leaders.
In the fourth lap, a powerful Nieuwenhuis (Baloise Trek Lions) managed to join them at the front. He immediately took the lead and put pressure on the others by imposing a fast pace. It was status quo for the four leaders. Iserbyt, who had dropped to 16th place after his misfortune at the start, was slowly but surely catching up in the background.
In the final lap, Iserbyt managed to join the four leaders. But a mistake meant he was left behind once more, together with Nieuwenhuis. That left Sweeck, van der Haar and Vanthourenhout with a claim to victory. After a long sprint, Sweeck triumphed for the second time in a row in the UCI Cyclo-cross World Cup. Van der Haar and Vanthourenhout finished second and third respectively.