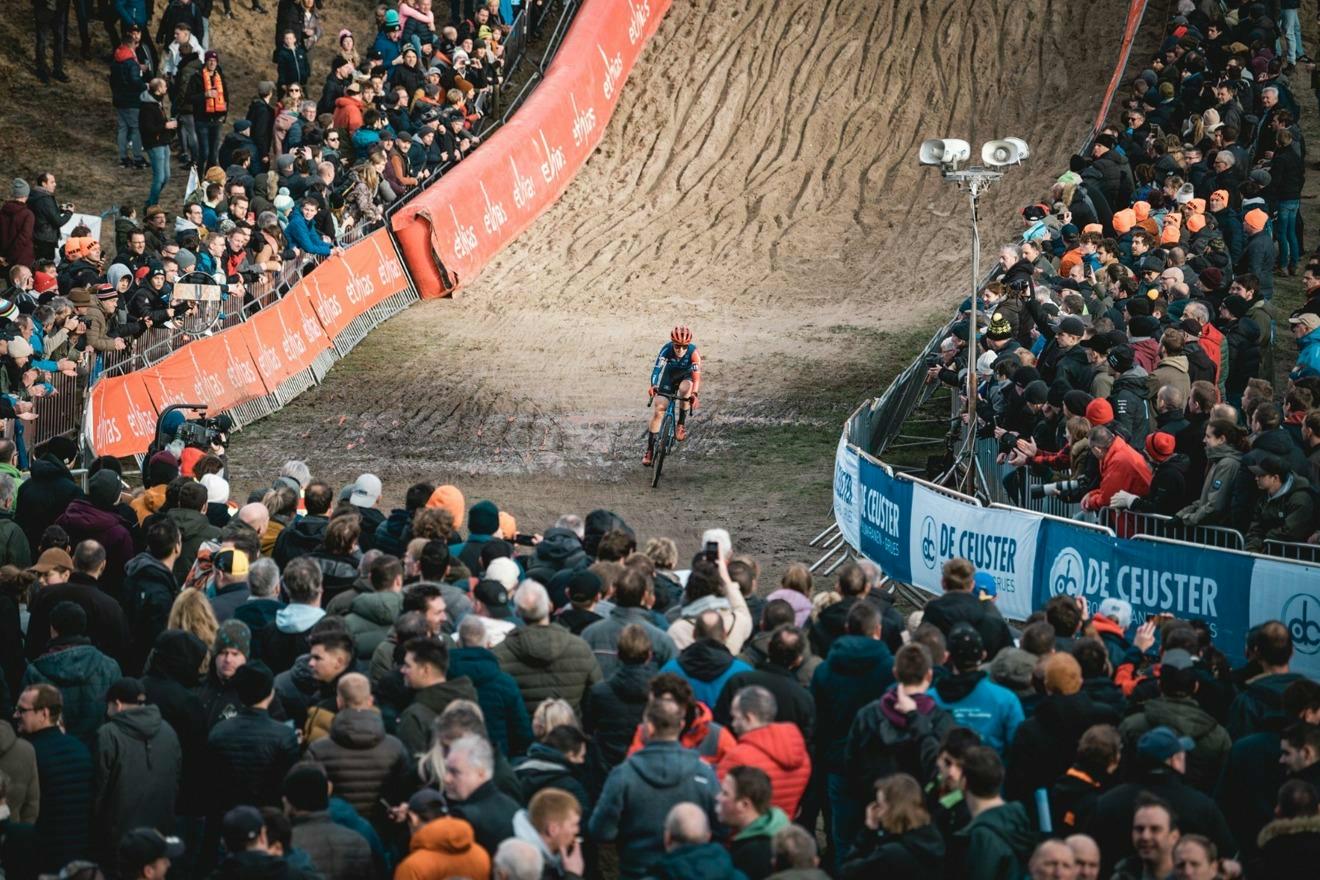 In the women's race, Van Anrooij cycled solo to victory in the twelfth round of the 2022-2023 UCI Cyclo-cross World Cup. After an absolutely thrilling first half, Van Anrooij was able to strengthen her lead in the second half of the race. She beat Pieterse and Van Empel.
Lap one immediately provided some fireworks in Zonhoven. Fem van Empel (Pauwels Sauzen-Bingoal) launched into the "Kuil" first and crashed. The leader in the standings had to try and recover, as Pieterse (Alpecin-Deceuninck) and Van Anrooij (Baloise Trek Lions) had seen their chance at the front. Despite Pieterse also sliding, the two soon built up a 23-second lead together over first chaser Brand. At the end of the first lap Van Empel found herself 36 seconds behind.
In the second lap, it was Pieterse who increased the pace, but didn't succeed in breaking away from Van Anrooij. On the contrary, on the second pass on the new slope, Pieterse slid again. For her part, Van Anrooij avoided any errors and Pieterse was left to chase.
After those first couple of sensational laps, calm seemed to return halfway through the race. Van Anrooij had found the perfect pace and was able to increase her lead second by second. Pieterse was looking at a 23-second gap at the end of the third of a total of six laps. Almost a minute behind leader Van Anrooij, it was Van der Heijden and Van Empel who battled for third place.
With two laps to go, the race seemed to have been decided. Van Anrooij didn't concede a metre at the front, Pieterse had a firm grip on second place and meanwhile Van Empel had also won the battle for third. The podium was set.
After six rounds, winner Van Anrooij claimed first place, just like in Gavere. She took her third win in the UCI Cyclo-cross World Cup ahead of the other two young talents Pieterse and Van Empel.