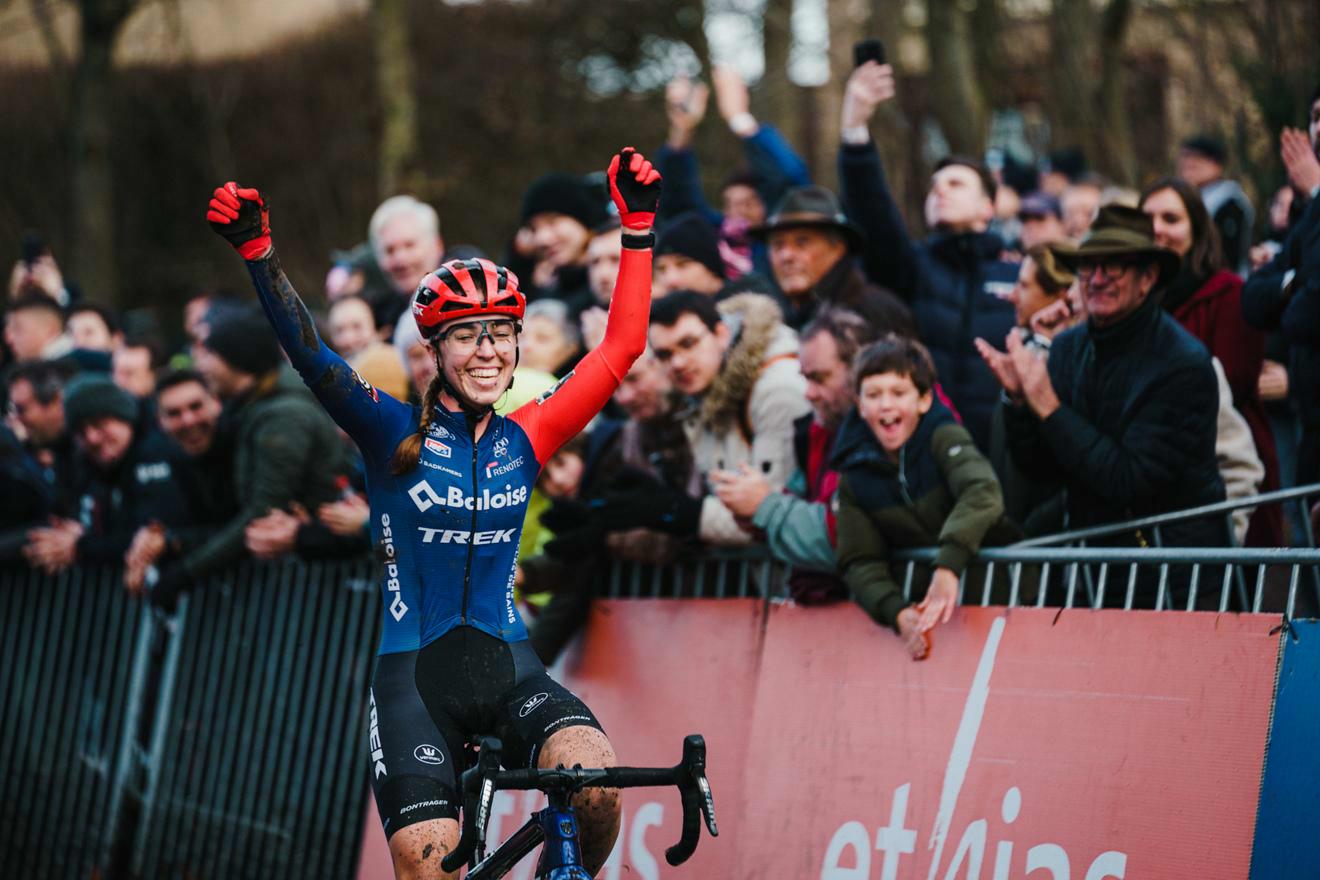 Dutch rider Shirin van Anrooij has given herself a nice Christmas present. In Gavere, she won her second World Cup round of the season finishing solo. On a tough and muddy course, she left behind her teammate Brand. Pieterse took third place on the podium.
It was Marie Schreiber, after a fast start, who initially towed the peloton along. Everyone seemed to get through the first few metres well, but Lucinda Brand, winner of the last two crosses in Gavere, was left to chase after a wobble. It was Puck Pieterse, Shirin van Anrooij and Kata Blanka Vas, among others, who filled the places at the head of the race.
Pieterse was the first to achieve a small gap in the lead while, behind her, Van Anrooij also managed to distance herself from her rivals. However, the two young Dutch riders eventually came together. Meanwhile, Brand, Vas and the18-year-old Zoe Bäckstedt were battling it out for third place.
After a passage in the pit, Van Anrooij suddenly took the lead, Pieterse was pushed into chasing her and Vas was also on the move. Entering the second lap, Van Anrooij's lead amounted to 10 seconds, but Pieterse did not give up and was soon fighting back. The two got back together, but then Pieterse suffered equipment failure. She failed once to change bikes, after which her wheel did not spin properly through the mud. After finally changing bikes, she had fallen back into fifth place, 40 seconds behind leader Van Anrooij.
Behind the leader, Brand had already had quite a catch-up race. She fought her way to join Vas and was getting closer to Van Anrooij. Brand broke away from Vas and got sight of her teammate Van Anrooij. The two came together for a moment, but it was Van Anrooij who was able to break away again. Van Anrooij entered the final lap solo and her victory was no longer in doubt. Brand came second. Behind them, Pieterse was able to pass Bäckstedt and Vas and took the final spot on the podium.