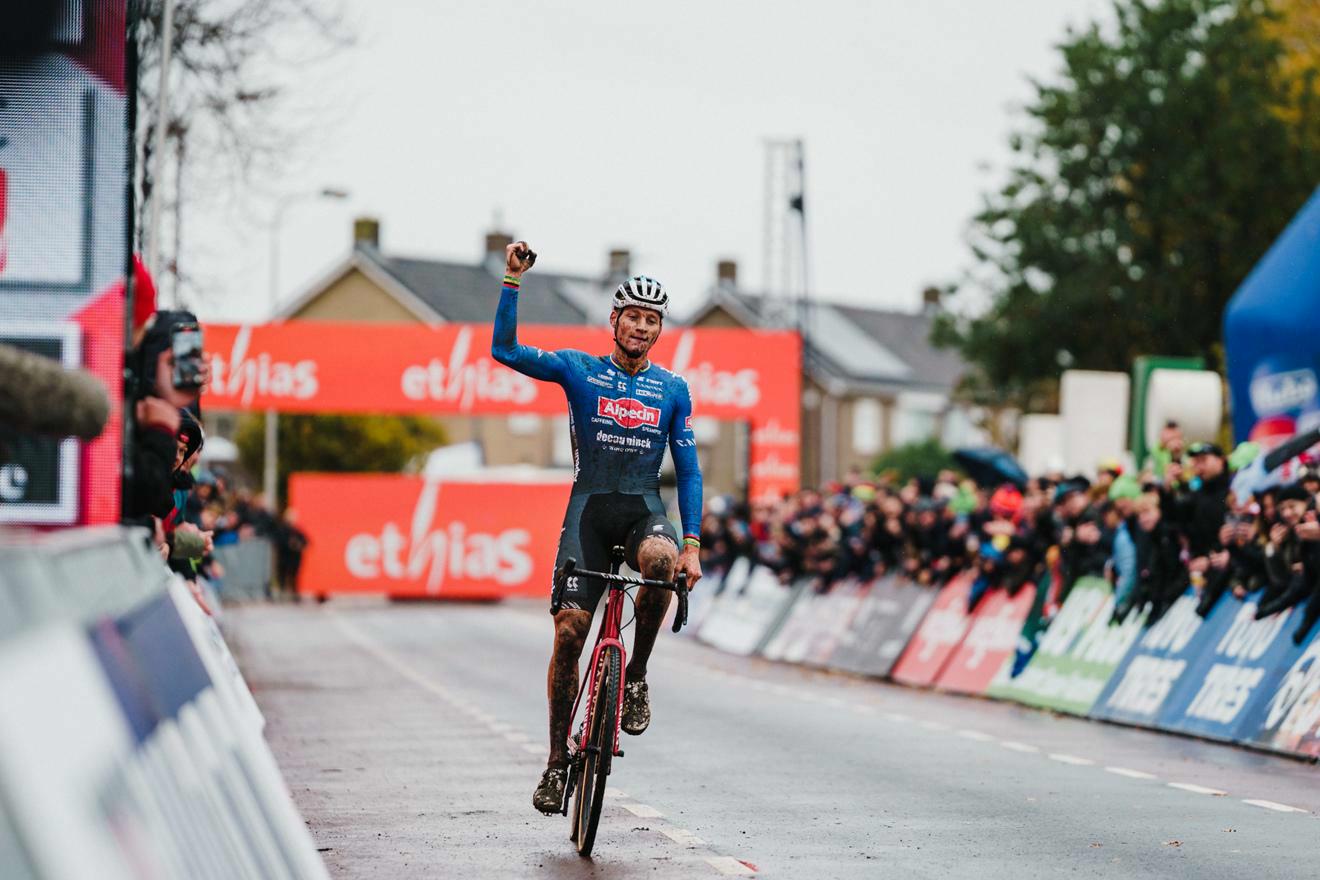 A fairly technical circuit awaited the riders in Hulst in the Netherlands. Slopes and slippery descents made for an exciting race that was partly decided in the final lap by world champion Tom Pidcock breaking a wheel. Mathieu van der Poel soloed straight to a first win this season after a strong comeback in the field.
Dutch champion Lars van der Haar once again took the lead at the start. But all eyes were on his compatriot Mathieu van der Poel, making his return to the field. The Dutch rider had to start in the fourth row, so getting a good start was crucial for the rest of his race. And the former world champion understood that immediately. Van der Poel got away in around 18th place and made up a lot of ground right away after several strong technical turns.
A bold manoeuvre enabled him to pass three more riders. He didn't hesitate for a second and moments later was on the wheel of leader Van der Haar. After barely six minutes, he decisively took the lead. Pidcock was still in hot pursuit at that point. Van der Haar and Iserbyt tried to stay on Van der Poel's wheel. But a minor skid soon cost Van der Poel his lead and in the same lap another slide caused him to drop back to sixth position.
This allowed Van der Haar to take over to lead the race with a lot of riders on his trail. Moments later it was Pidcock who headed out front with Sweeck following a few seconds and Iserbyt behind. Fast starter Van der Poel was in sixth place 17 seconds behind, but made a second attempt to storm to the head of the race.
Sweeck took over from the world champion moments later and in the background Van der Poel sped towards the duo. He soon rejoined Iserbyt and Van der Haar within seven seconds. In the fourth lap, it was Pidcock who turned up the heat on Van der Poel, but a mistake allowed Van der Poel to catch up. Moments later, Pidcock slipped again, losing several seconds on the Dutchman.
Entering the fifth lap, with Van der Poel, Pidcock and Sweeck, three riders were still in the race for the podium with just a few seconds separating them. Pidcock was in pursuit but stayed close to Van der Poel. It was a matter of avoiding any mistakes on this rather technical circuit. Van der Poel suffered another minor slip but did not relinquish his lead and went into the final lap with 12 seconds on the world champion.
Pidcock's wheel suddenly broke on a descent, causing a crash. The world champion saw his second place go up in smoke and decided to step out of the race moments later. Half a lap later, making a strong return, Mathieu van der Poel was able to triumph in Hulst for the fifth time in his career. With Pidcock out, Sweeck rode to second place and Iserbyt was just able to stay ahead of Van der Haar to claim third. However, third place was no longer enough for him to keep his leader's jersey and Sweeck now takes the lead in the standings.