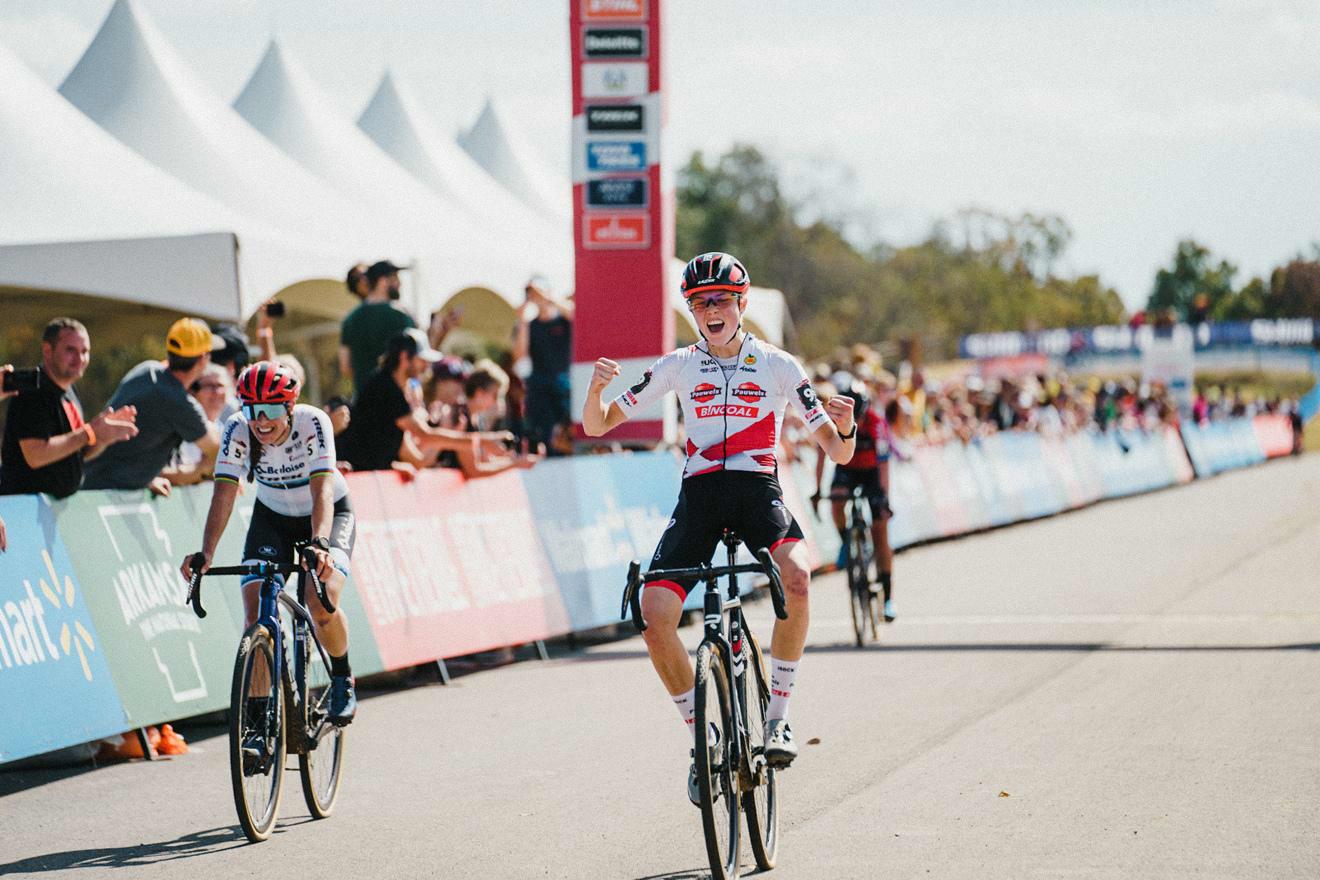 After the opening round in Waterloo, Fem van Empel has now also won the second race in the UCI Cyclo-cross World Cup. She beat Lucinda Brand and Annemarie Worst in a three-rider sprint.
Hélène Clauzel had the best start in sunny Fayetteville. She was the first to head into the field with the Dutch Alvarado right on her wheel, but her lead was short-lived. Denise Betsema was clearly in her element and accelerated on the first climb. Inge van der Heijden was the only one who could keep up. At the end of the first lap, the two led the race by seven seconds. Alvarado had to make up sixteen seconds after experiencing chain problems.
European champion Lucinda Brand saw the danger and closed the gap on the two leaders. Fem van Empel and Annemarie Worst followed close behind. Not much later, Clauzel and Alvarado rejoined the leaders, even though Clauzel did not last long. Her chain problems recurred, which meant the rider from Alpecin - Deceuninck had to change bicycles and catch up again.
During lap four, Brand thought her moment had come. She attacked during the long climb and suddenly, not many of the six leaders were left. Only Fem van Empel was initially able to keep pace with the European champion. Half a lap later, Denise Betsema turned the lead group into a trio, but mechanical problems set her back.
Going into the penultimate lap, Brand and van Empel had a lead of six seconds over Betsema, Worst and van der Heijden. The race seemed to turn into a duel, but van Empel attempted to put a spanner in the works. She overtook Brand with a double jump over the barriers, but the European champion soon succeeded in closing the gap once more. At the end of lap six we had five leaders, because the trio in the chase had now caught up.
Brand pulled out all the stops on the climb, but Fem van Empel did not crack. They couldn't shake the other off and Annemarie Worst was also on their heels. The three of them prepared for the sprint. Brand started in first position, but it was van Empel who celebrated her second victory in the UCI Cyclo-cross World Cup. The Dutch rider thus strengthens her leading position in the standings.