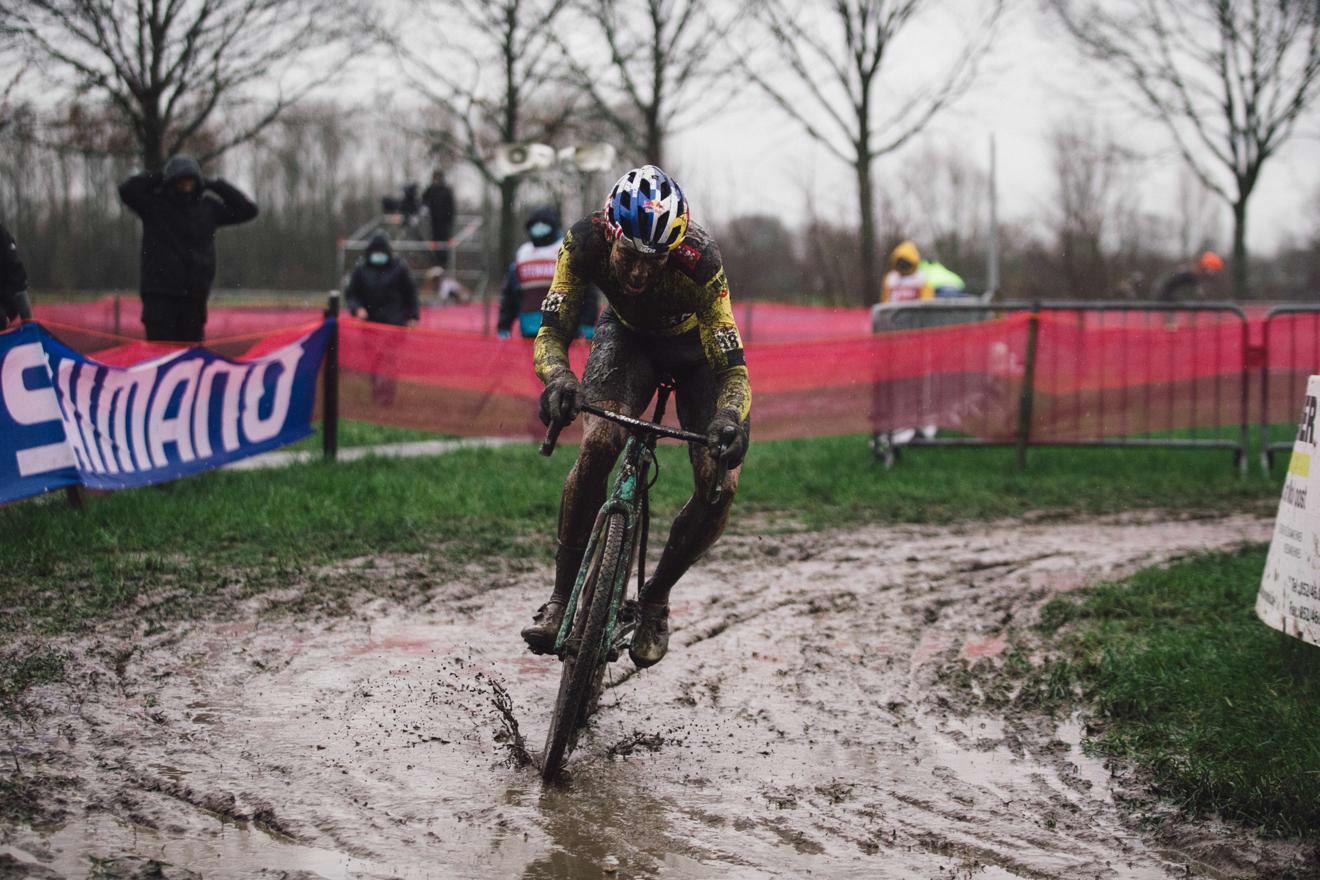 Wout van Aert won the new cyclocross in Dendermonde on Sunday, the third round of the World Cup. Van Aert rode away from Van der Poel half way through the race and continued solo to victory. Mathieu van der Poel came second almost 3 (!) minutes behind. Van Aert is also the new leader in the World Cup.
Wout van Aert and Mathieu van der Poel, took off excellently. Not much later Van Aert was on foot after all. After a mechanical problem he had to chase. In the second of seven laps the Flandrien joined again. Immediately after that Van Aert and Van der Poel hit a gap on Quinten Hermans, Corné Van Kessel and Michael Vanthourenhout, the leader in the World Cup at that time.
In the beginning of the third round Van Aert put his Dutch rival under considerable pressure. The world champion had to leave a few meters and changed bikes. That gave Van Aert the opportunity to expand his lead further. With four laps to go Van der Poel was already half a minute behind. The third, Corné van Kessel, was already a minute behind.
Pure power
In a cross in which it all came down to pure power, Wout van Aert felt completely in his stride. He deepened his lead further and further. In the meantime Lars van der Haar abandoned the race. The Dutchman stepped out of the race when he was riding in 17th place. Van der Haar, third place going in to the race, lost many places in the World Cup standings. His team mate Toon Aerts, still recovering from a training accident, was having a good cross and passed Van Kessel.
Without any threats Van Aert took his second victory of the cyclocross season. Because of his victory Van Aert is also the new leader in the World Cup. Mathieu van der Poel finished second almost three minutes behind, Toon Aerts completed the podium. He even came awfully close to Van der Poel. Michael Vanthourenhout finished fourth, Belgian champion Laurens Sweeck fifth.
Source: nieuwsblad.be