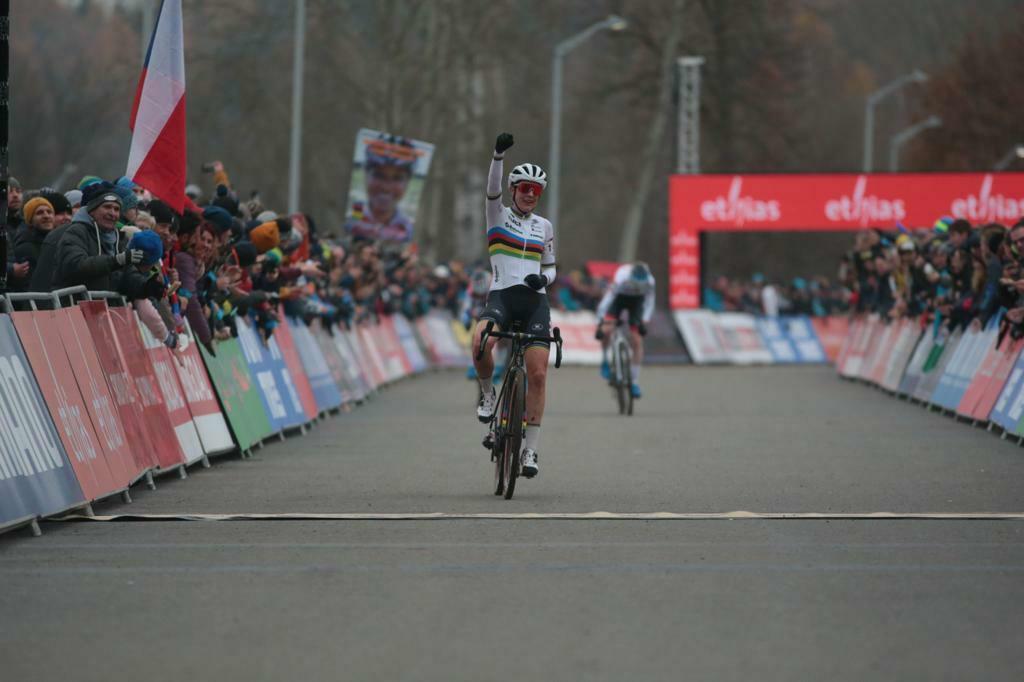 World Champion Lucinda Brand has won her second World Cup race of the season in Tabor, Czech Republic. After an ultimate acceleration in the last lap, she crossed the finish line solo. Puck Pieterse and Annemarie Worst flanked her on the completely Dutch podium.

Spectators had to wait until the second lap before an initial lead group formed in Tabor. After an exploratory lap on an almost completely dry circuit, Dutch racer Puck Pieterse stepped up the pace. Hungarian racer Kata Blanka Vas and world champion Lucinda Brand were the only ones to follow in the wake of the world cup leader in the U23 ranking.
Because the level of the racers was very equal, Ceylin Alvarado and Annemarie Worst were able to catch up with the lead group. By the end of the third lap, the pace had completely stalled. Shirin van Anrooij and Denise Betsema were able to join them, bringing the lead group to seven racers.
Pieterse finally thought the time was right at the halfway point of lap 4. As in previous laps, the Dutch racer was the only one to hop over the barriers. On the following slightly uphill section, she proceeded to accelerate strongly, giving her a 7-second lead.
Vas and Betsema chased her in an attempt to close the gap. They succeeded in catching up with her half a lap later. Alvarado, Worst and Brand followed in their wake, joining the lead group. At the start of the last lap, even Anrooij caught up with them again.
The bell for the last lap was the cue for Lucinda Brand to accelerate. The world champion succeeded in gaining a 4-second lead and from then on she never let up. The Dutch racer crossed the finish line solo, winning her second World Cup race of the season. She was flanked by Puck Pieterse and Annemarie Worst on the podium. Thanks to this victory, Brand is also the new leader in the UCI World Cup Cyclo-Cross ranking.
© Cyclephotos