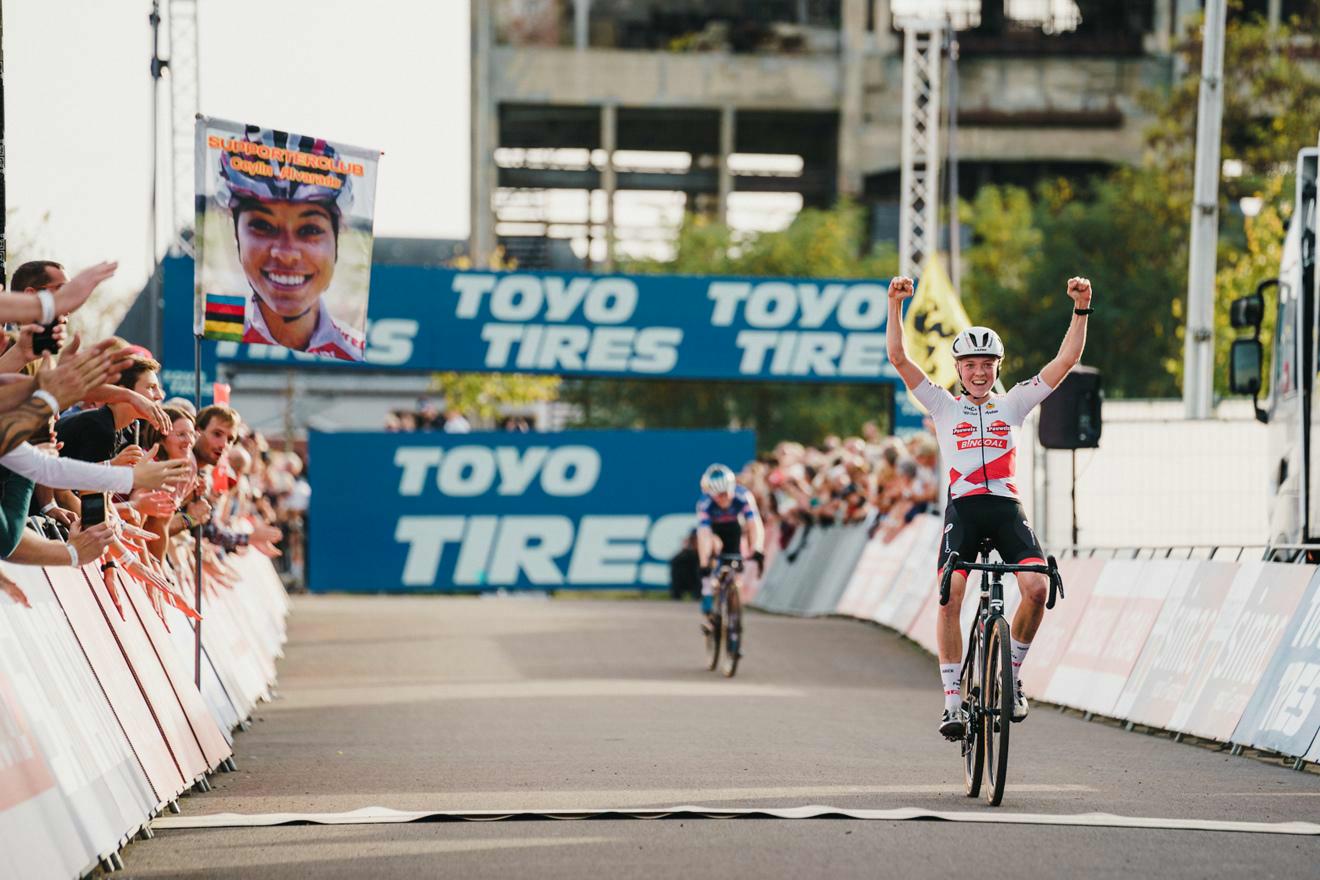 None other than Fem van Empel has won the latest round of the UCI Cyclo-cross World Cup in Maasmechelen. The young Dutch rider has thus won her fourth World Cup race in a row.
Leader in the standings, Fem van Empel seemed unafraid of the brand new circuit in Maasmechelen and was the first to take the field. With three World Cup wins already under her belt, the young Dutch rider stood at the start as the woman to beat. World champion Marianne Vos missed her start and was forced to chase.
Puck Pieterse threw caution to the wind and put her rival van Empel under pressure from the very first lap. Behind, it was Shirin van Anrooij and Ceylin Alvarado who tried to follow van Empel. The World Cup leader looked right into van Anrooij's eyes and did not immediately want to go in full pursuit. Pieterse was thus unleashed for a while, but she made a mistake on a steep slope that allowed van Empel and van Anrooij to make the connection together with Alvarado. This created a leading group of four which had already built up a nice gap ahead of the chasing pack.
At the front of that chase was Dutch rider Denise Betsema, who was riding at 5 seconds. Vos was already 22 seconds behind at the start of the third lap and looked to have no significant part to play in this round of the competition. Meanwhile, things were starting to get difficult for Alvarado at the front and a short time later she had to let go of the trio van Empel, Pieterse and van Anrooij who took off for good in front of her.
Betsema, who won in Ruddervoorde the day before, caught Alvarado a little later and seemed to be getting closer to the young trio in front. But the Dutch youngsters constantly put each other under pressure, leaving Betsema stuck at 6 seconds. Behind her, it was Blanka Vas who led the chase at half a minute. Van Anrooij seemed unimpressed by her two strong compatriots and tried to accelerate away going into the 5th lap, but the gap was quickly closed by van Empel. Alvarado dropped further back into seventh place.
Moments later, Pieterse saw her chance and accelerated strongly. But van Empel was alert and did not let her rival go. The trio were very evenly matched and they started the last lap with Pieterse in the lead. But suddenly van Empel saw her chance and pushed hard. This acceleration clearly put van Anrooij under pressure, but the Dutch rider gritted her teeth and held on, and Pieterse also managed to get back on the wheel of the World Cup leader.
It was on Pieterse to be the first to tackle her speciality, the bars. But van Empel did not allow that to happen and van Anrooij also pushed on again, leaving Pieterse in third position. The positions swapped around and the tension was palpable. Pieterse managed to accelerate once more, but van Empel remained strong and did not let her go.
She found a gap, rode past Pieterse and broke away. This was the decisive breakaway as it turned out, because both Pieterse and van Anrooij were unable to do anything. Van Empel thus won her fourth World Cup race in a row and remains commandingly in the lead in the standings. Pieterse finished in second place and a very happy van Anrooij ended as third. Betsema finished fourth at 44 seconds.