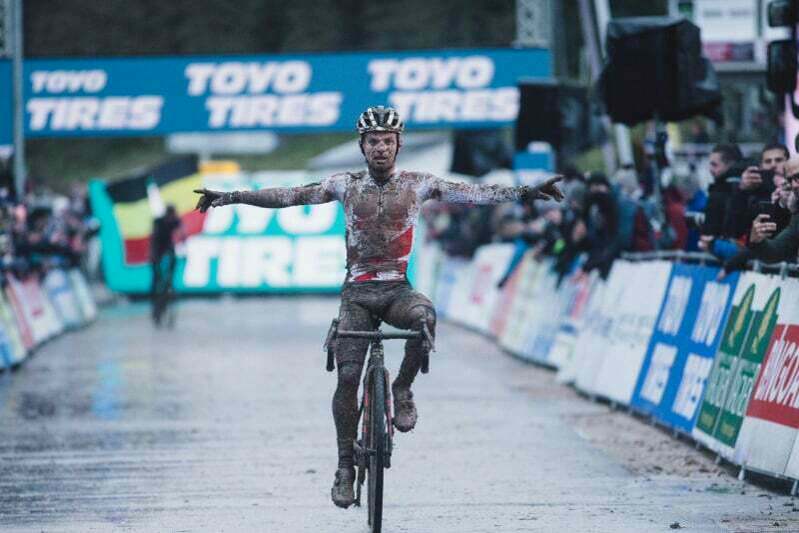 The 8th round of the UCI Cyclo-Cross World Cup in Besançon ended in another win for Eli Iserbyt, who managed to beat his compatriot Toon Aerts to the finish line after a pressing duel.
The rider off to the best start in Besançon was the Dutchman Ryan Kamp (Pauwels Sauzen – Bingoal), but he was soon taken over by Toon Aerts (Baloise Trek Lions), who found a course that suited him to a T in France. The Belgian picked up his pace considerably halfway through the first lap, which prompted Eli Iserbyt (Pauwels Sauzen - Bingoal), whose start had not been as fortunate, to move up to the front. The leader of the UCI World Cyclo-Cross World Cup had to close quite a gap, but was nevertheless able to catch up with Aerts.
It was immediately clear that the two Belgians would be engaged in a spirited duel in the French mud. The two spurted on together, with Pim Ronhaar (Baloise Trek Lions) and Laurens Sweeck (Pauwels Sauzen – Bingoal) hot on their heels. The latter, however, had to relinquish his role as a pursuer after a shoe change. Round after round, the gap between the two leaders and the rest grew ever wider, with Ronhaar riding solo in third place.
After overcoming a mechanical problem during the second lap, Michael Vanthourenhout (Pauwels Sauzen – Bingoal) was rapidly moving up, and managed to catch up with Ronhaar halfway through the race. Meanwhile, the two leaders remained consistently neck and neck. Aerts put Iserbyt under pressure but the latter failed to give way.
It was not until Aerts suffered an unfortunate crash at the end of the penultimate round that Iserbyt, taking advantage of the incident, suddenly had a small lead. Aerts gave it all he had to get back into Iserbyt's wheel, but even a small mistake could not keep the latter from winning. A delighted Pim Ronhaar took his place on the winners' podium. Thanks to this victory, Iserbyt was able to consolidate his leading position in the UCI Cyclo-cross World Cup.
© Cyclephotos