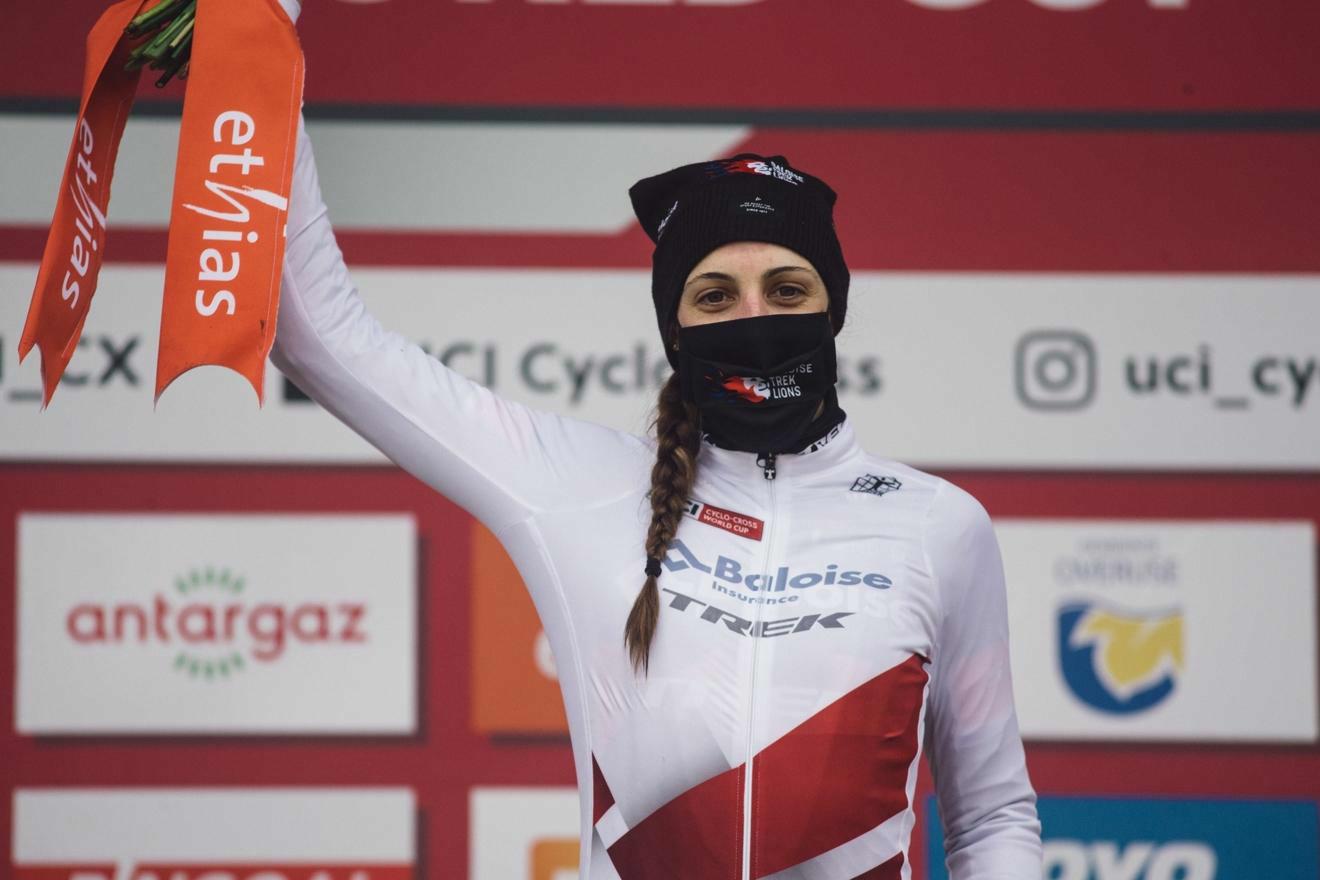 After winning the first three races and placing second in Hulst and Overijse there was no denying Lucinda Brand did not dominate this cyclo-cross season. The Dutch racer for Baloise Trek Lions confidently takes her first overall victory in the UCI World Cup Cyclo-cross.
The world cup kicked off in November in Tabor. After three exciting opening laps Brand decided to accelerate. Alvarado (Alpecin-Fenix) could follow her at first but soon had to let go of her fellow Dutch racer. Brand finished solo in Tabor ahead of Alvarado and Betsema (Pauwels Sauzen-Bingoal) and could thus take home the leader's jersey.
When Brand started her second round in Namur in a true pursuit it seemed like her off-day was going to cost her points in the classification. But after a strong effort to catch up with the front of the race, Brand won again and took the maximum amount of points, again. A total of 80 points led Brand to start expanding her lead on world champion Alvarado who could just keep her second place in the classification after ending fourth ahead of Betsema.
In Dendermonde Brand honoured her leader's jersey once more with a win and another 40 points. World champion and first chaser in the classification Alvarado finished after Honsinger and Betsema had another off-day in the mud of Dendermonde, which led Brand to expand her lead even further.
Betsema was able to make up for her off-day in Dendermonde by winning in Hulst. Her victory also made an end to Brand's dominion. The leader in the World Cup could limit the damage in the classification and sprinted ahead of world champion Alvarado to a second place. With a lead of 42 points and thus peace of mind Brand was ready for Overijse. She was already certain of her overall victory. Betsema winning this race caused the battle for second and third place to be a closer one again as she jumped over Alvarado to second place with a difference of 6 points.
The challenging course of Overijse terminated this World Cup and the general classification. World champion Alvarado gave her all and won on the steep course. Her competition Betsema had a strong first half of the race but could not keep up, which led her lead of six points to vanish. Alvarado jumped over Betsema to a second place in the classification again.
Last season Brand ended seventh in the general classification but this season she deemed unbeatable. After a great second place in Overijse she takes another 30 points and dominantly ends this World Cup.
Lucinda Brand – 180 pts.
Ceylin Alvarado – 142 pts.
Denise Betsema – 129 pts.