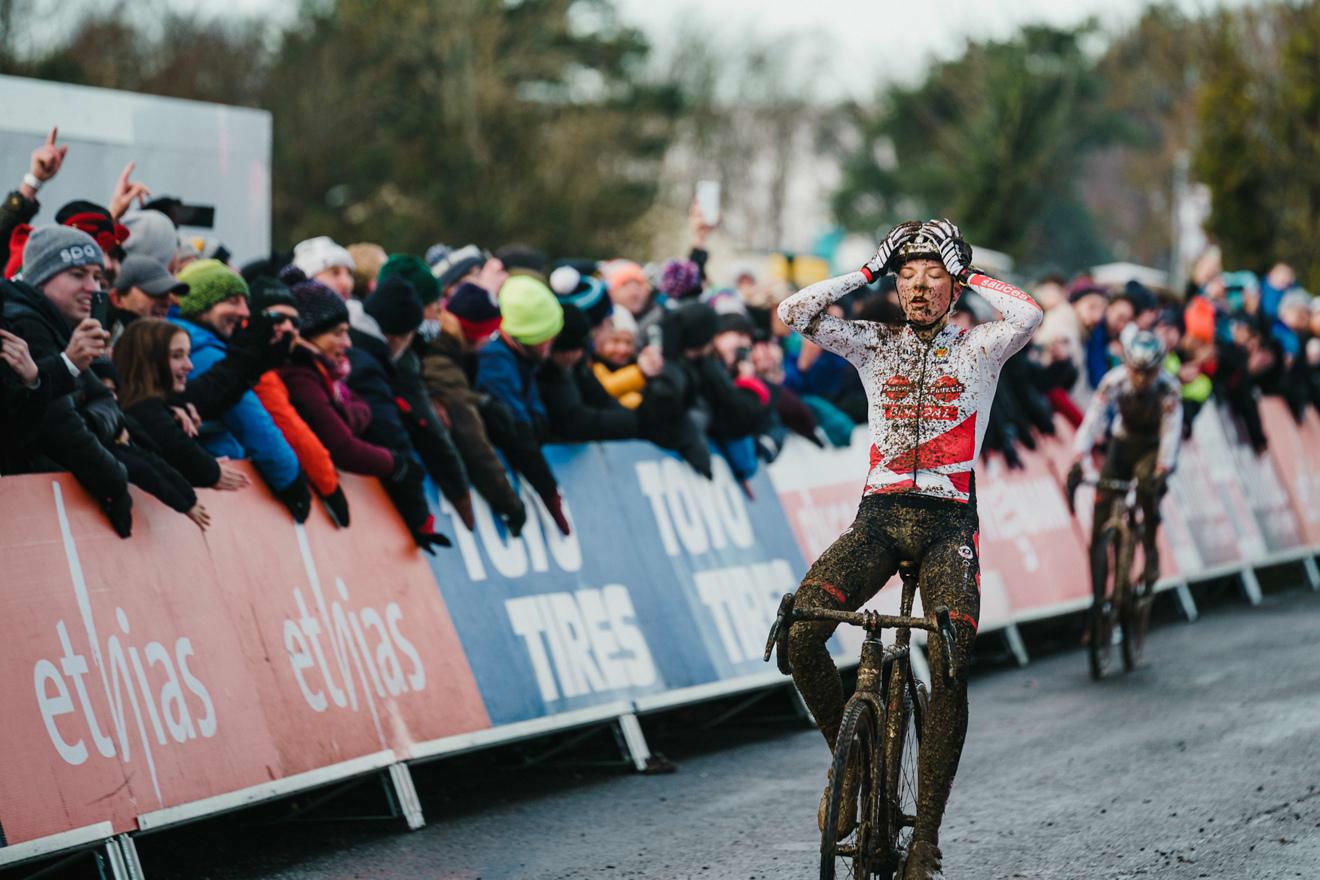 Fem van Empel's dominance continues. With a sixth victory in the UCI Cyclo-cross World Cup this season, she is more firmly in the lead in the standings. Van Empel was able to hold off Pieterse after an ultimate acceleration in the final metres in the field. Betsema finished in third place.
In the last few rounds we saw the Van Empel-Pieterse duo battle head-to-head so we were looking forward to another duel in Dublin. Bad luck struck already in the first lap: Pieterse (Alpecin – Deceuninck) tripped up on the barriers, faced a minor technical problem and had to change bikes. Trailing by 20 seconds, she left the pit midway through the first lap. The Dutch rider was left to chase.
For Van Empel (Pauwels Sauzen – Bingoal), that was the moment to keep up the pressure. With teammate Betsema on her wheel, she sped to the end of the first lap. Pieterse was 12 seconds behind. But Betsema couldn't keep up with Van Empel. She fell back and was soon joined by Pieterse, who in turn went after Van Empel.
By the end of the second lap, she had caught up with her. At Van Empel's first bike change, Pieterse saw her chance, accelerating and upping the pressure. Nobody succeeded in breaking away for now. The two were clearly evenly matched today.
There was no competition from behind. The two of them launched into the final lap. After the first passage in the pit, Pieterse, who did switch bikes, had to close a small gap on Van Empel. At the barriers, Pieterse planned her acceleration, she jumped; Van Empel did not. But the hurdle did not benefit Pieterse that much. There was no difference in the sandpit either, the two rode faultlessly to the final passage on the short climbs at the end of the circuit.
Van Empel sped past Pieterse into the lead and put pressure on her rival, but could not break away. It was then Pieterse who tried her luck. She switched gear while running uphill. But, in turn, Van Empel was able to close the gap. She immediately caught and overtook Pieterse, accelerating away. She dived into the final straight first, several metres ahead. Sprinting wasn't necessary as Pieterse had nothing left in the tank.
It meant Van Empel became the first to put her name on the list of honour in Dublin. Her teammate Betsema finished at 1'37" in third place. For Van Empel, it was already the sixth win in the UCI Cyclo-cross World Cup, affirming her lead in the standings.