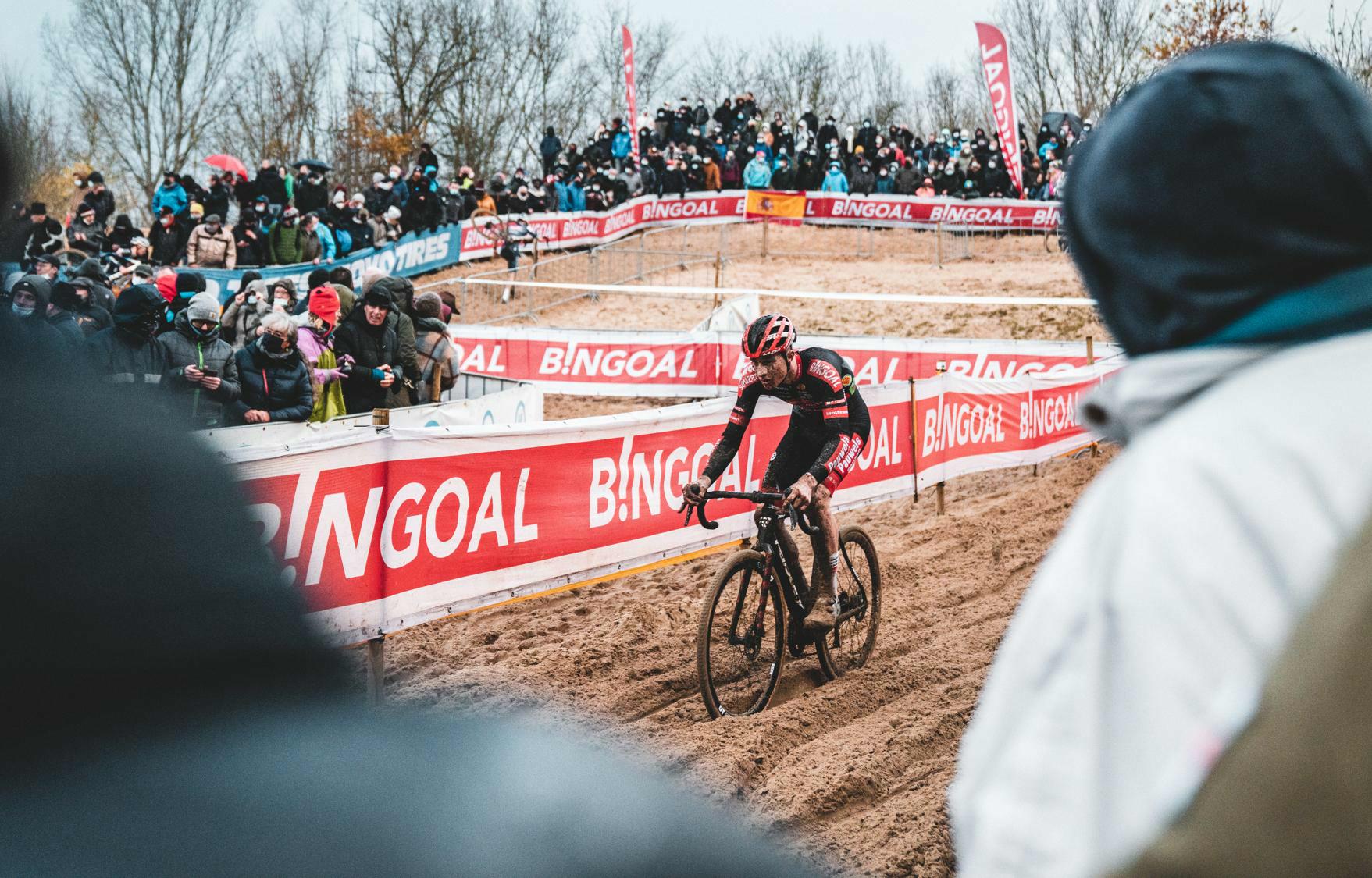 Koksijde

Sunday 21 November 2021
As usual, the seventh round of the 2021-2022 UCI Cyclo-cross World Cup in Koksijde provided a magnificent sand spectacle. This year, Eli Iserbyt and Annemarie Worst were the strongest. Curious to see how it went?
Women Elite
The course in Koksijde was back after a year's absence from the UCI Cyclo-cross World Cup for well-known reasons. The youngsters of the peloton were the first to enter the field. They were soon joined by several elite ladies such as Brand, Betsema, Worst and Alvarado. In the penultimate lap Worst accelerated and began an impressive solo. She finished first, ahead of Betsema and Brand. Read on?
Men Elite
After Waterloo, Iowa City and Overijse, Iserbyt also put the finishing touches on the seventh manche of the UCI Veldrijden World Cup in Koksijde. It took until the third lap for the first definitive gap to be created between a small leading group including Aerts, Iserbyt, Sweeck and Hermans. The UCI World Cup cyclocross leader distanced himself from the other riders in the penultimate lap and went solo into the final lap. Teammate Sweeck and a fit Toon Aerts completed the podium. Find out how?
Programme
U17 *no World Cup
1. Axel Van Den Broek (BEL)

00:28:26

2. Floris Haverdings (NED)

+00:42"

3. Ieben Jacobs (BEL)

+01:11"
More
Men U19 *no World Cup
1. David Haverdings (NED)

00:42:35

2. Yordi Corsus (BEL)

+01:04"

3. Viktor Vandenberghe (BEL)

+01:41"
More
Men U23 *no World Cup
1. Joran Wyseure (BEL)

00:49:42

2. Jente Michels (BEL)

+00:16"

3. Emiel Verstrynge (BEL)

+00:19"
More
Women Elite
1. Annemarie Worst (NED)

00:46:31

2. Denise Betsema (NED)

+00:17"

3. Lucinda Brand (NED)

+00:37"
More
Men Elite
1. Eli Iserbyt (BEL)

00:57:00

2. Laurens Sweeck (BEL)

+00:04"

3. Toon Aerts (BEL)

+00:07"
More
Buy tickets