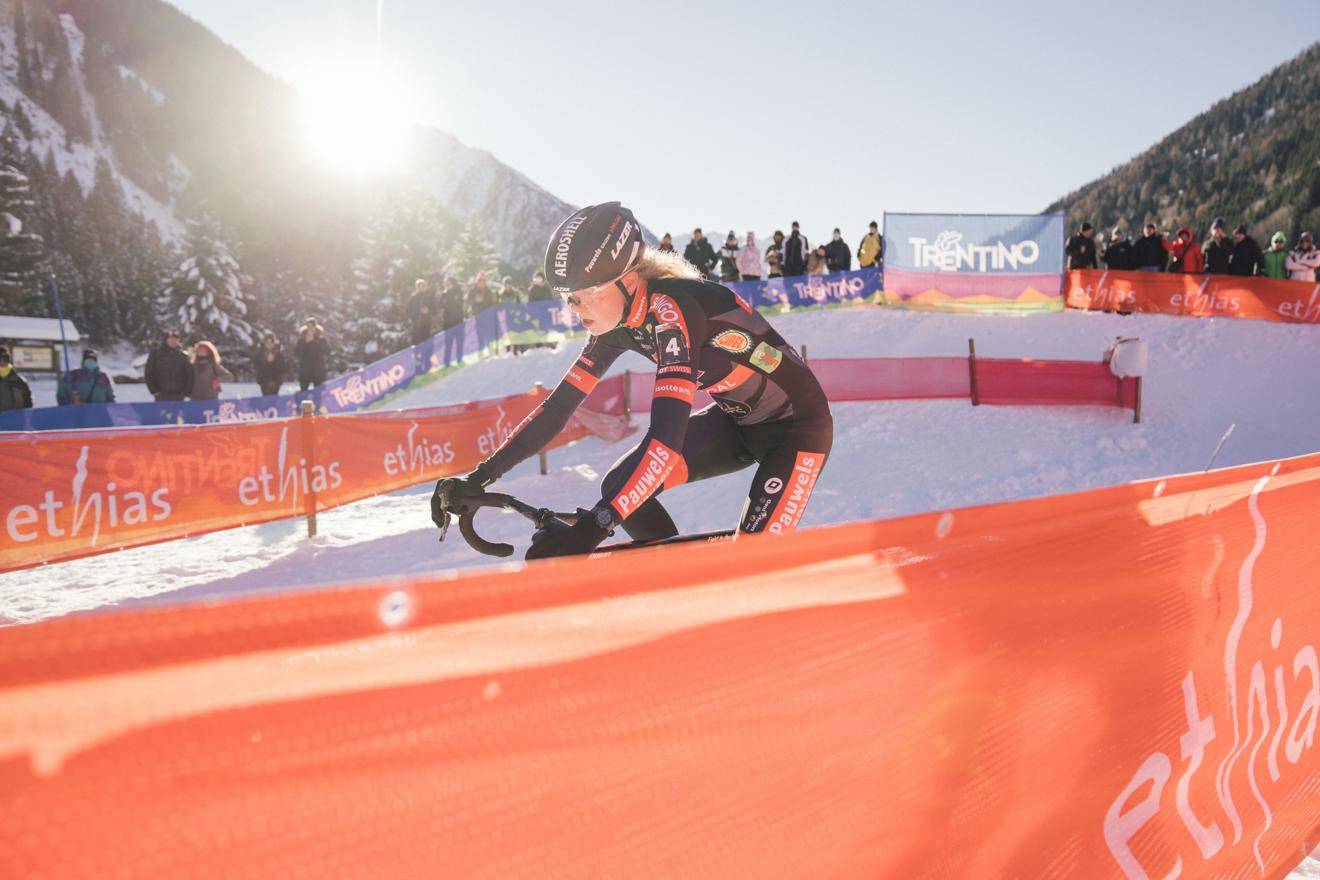 After a particularly exciting final lap, the 19-year-old Fem van Empel was able to raise her arms in triumph in Val di Sole. Marianne Vos came very close to victory after early mechanical failures and a great race to catch up, but stranded in the second place, ahead of the Canadian Rochette.
The Dutch rider Van Empel (Pauwels Sauzen-Bingoal) got off to a very rapid start. She quickly built a lead of about 10 seconds. In the pursuit, it was Betsema (Pauwels Sauzen-Bingoal) and Vos (Jumbo-Visma Women Team) who demonstrated their best technique on the snow in Val di Sole. Until Vos suddenly had to take to her feet off the pedals because of mechanical failures. She was able to resolve her chain problem herself, but when she rejoined the race she was more than 50 seconds behind.
While Van Empel was clearly able to find the right rhythm out in front and was carefully extending her lead, Betsema felt the Canadian Rochette advancing on her from behind. On the penultimate lap, Rochette passed Betsema and gradually leader Van Empel came into her sights. At the start of the last lap, the difference between the number one and number two in the race was barely 9 seconds.
And then the thrilling finale began. While first it seemed that Rochette would go all the way to the front of the race, it was actually Marianne Vos who suddenly emerged from nowhere. The Dutchwoman had made up the difference of more than a minute, passed Rochette and coming to the end of the final lap was on the wheel of leader Van Empel.
By taking the necessary risks, Vos, who won in Waterloo and Iowa City, also tried to complete matters in Val di Sole. However, she crashed into a post in the last snow stretch of the course. Van Empel once again went on the attack and sprinted to victory in the 9th round of the UCI Cyclo-cross World Cup. The 19-year-old was able to raise her hands in triumph after leading for the entire race. Vos was second, 6 seconds ahead of Canadian Rochette who finished 11 seconds down.
©cyclephotos